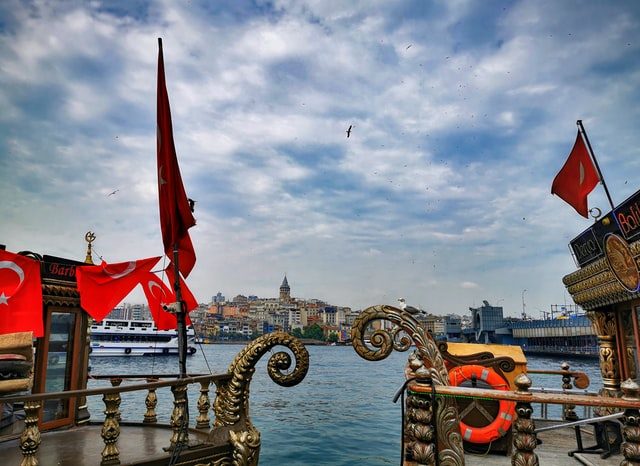 Trade with Turkey – Overview
Trade with Turkey Guide – Turkey is the link between Europe and Asia. Interestingly, 97% of Turkey's territory lies in Asia, and only 3% of its territory lies in Europe. In 2019, Turkey was the EU's 5th largest trading partner, export market, and imports provider. The EU is by far Turkey's number one import and export destination. In 2019, the Turkish economy was ranked as the 19th largest economy in the world, according to the World Bank. Many European countries consider Turkey a nearshoring country in their supply chains as do countries in the middle east.
Turkey has evolved from the Ottoman Empire, and modern-day Turkey came into being in 1923. Since 2000 the economy of Turkey has been steadily growing. However, it is currently experiencing severe headwinds as it has become overly dependent on foreign investments to fuel its growth. Turkey is ranked in 33rd place by the World Bank on its ease of doing business rankings. This ranking is behind Azerbaijan and ahead of France.
Turkey's population is 82.5 million people, with 39.08% of the population under 25 years of age (source cia.gov).
Trade with Turkey – Business culture
Turkish is the official language of Turkey. English can be used for business meetings, and it is polite to enquire if everyone is comfortable with English before conducting any meetings.
Turkish people are hospitable, polite and extremely professional. They tend to work extremely hard and long hours. Turks like to get acquainted with the people they will work and do business. They will most likely do business with those they can trust and provide a long term relationship.
Pricing and finance are tackled slowly and never at the beginning of negotiations. Turks are good negotiators, and bargaining will be conducted strenuously and often subtly.
In the major cities, there is a certain amount of liberalism in dress and custom for women. Business suits for females and males are the norm.
Some tips and guidelines
Always be polite and ask after peoples families. Do not disrespect their family.
Turkish people stand close to you during a conversation. It is customary in Turkey to have very little interpersonal space and not something to be apprehensive about.
Avoid Standing with your hands on your hips or in your pockets.
Don't point at someone with your finger.
Spent time getting to know someone before chatting about business with them.
Using pressure tactics, such as imposing a deadline.
Setting up in Turkey
It is advisable to have a local representative to assist you in entering the Turkish market. A local representative should provide local experience and knowledge and have contacts with government and private sectors.
Turkeys Investment Guide is a government-led agency that offers information that helps companies set up and do business in Turkey.
Firms wishing to enter into the Turkish market have a variety of options, including:
Using a sales agent, joint venture or strategic alliance
For many companies, representation in Turkey by a Turkish agent, distributor, liaison office or partner will be crucial to their success. A local partner can provide knowledge of the local regulatory framework, language assistance and valuable business contacts.
Establishing a Turkish representative office.
Turkey has introduced reforms to make it easier to do business to enhance the investment environment, eliminating red tape in setting up a business and minimising costs and procedures. To this end, establishing a company is now only carried out at Trade Registry Offices located in Chambers of Commerce and designed to be a 'one-stop-shop'. The process can be completed in one day.  
Sourcing from Turkey
Turkey is a country which offers firms a lot of sourcing opportunities. Turkeys Ministry of Trade assists firms wishing to source from Turkey. Some of the main products which can be sourced from Turkey include:
Appliances.
Apparel.
Chemicals.
Clothing
Construction products
Food.
Footwear.
Furniture.
Glassware
Paper and pulp.
Porcelain and ceramics.
Seafood
Textiles
Wine and Liquor.
When sourcing from Turkey, it is recommended to have Quality Control Inspections and Supplier Verifications conducted at the factory or warehouse in Turkey. Goodada's Turkey Seller Verification & Quality Control Inspection Services offer these services across all parts of Turkey.
Goodada offers a dedicated Furniture Inspection service. Visitors can find a Turkish Furniture QC Inspection page.
Banking and Finance
The unit of legal tender in Turkey is the Turkish Lira (₺ TYR).
Online and telephone banking, debit/credit cards, bonds and checks are widely used. Services in English are available for online and phone banking. The Turkish banking system sets a good global example in terms of operation and finance.
Turkeys three state-owned commercial banks plus the nine largest private banks account for 90% of total bank assets.
Trade with Turkey – Tariffs and Non-Tariff Barriers
Tariff
Turkeys import duties and tariffs are heavily influenced by a Customs Union agreement with the European Union. It provides duty-free access for industrial products and processed agricultural products. Turkey imposes the EU's Common External Tariff, the same external tariff applied by all states within the EU to goods imported from outside these territories.
Turkey has free agreement agreements with other countries; these can be found on its Ministry of Trade page.
Non-tariff barriers
"Risk-Based Trade Control System (TAREKS)" has been launched at the end of 2010 by the Ministry of Trade to carry out safety and quality checks on export and import goods electronically and on a risk basis.
Turkey has committed itself to approximate its technical legislation with that of the European Union.
Product labelling, certification and packaging
Turkey follows the European CE marking directives. Labels should be in Turkish. Information on the labelling of products in the interest of consumers and compliance procedures are available at Summaries of EU Legislation.
Certification
For certain goods, specific labels might be required, i.e. some products might need to be cleared by the Ministry of Agriculture and Forestry (www.tarimorman.gov.tr), and some by the Turkish Standards Institute (TSE) (www.tse.org.tr).
Packing
It would be best to have your packaging approved with any buyer or agent in Turkey as their market might have particular preferences.
Methods of quoting and payment
Payment terms must be agreed to in advance, which can include 30/60/90 day terms. Whatever payment terms are agreed upon, please make sure all parties understand them and that your client, representative or contact signs a mutually agreed document.
Documentary & Clearance Requirements
Documentation required:
For those sending products to Turkey, the documents required are a Commercial Invoice, plus a Bill of Lading or Airway Bill. For some products, a cert of origin, health certification and other necessary documents may be required.
Customs process:
Before moving goods into Turkey, it is essential to have a Turkish Customs agent verify any import taxes and documentation requirements.
Trade with Turkey – Business Risks
It is recommended to get insurance for your products. Goodada Insurance provides clients with online insurance facilities.
Businesses wishing to operate in Turkey should commit to the highest level of corporate behaviour and familiarise themselves with Turkish laws on bribery and the penalties for officials' corruption.
Intellectual Property Protection – So what
The registration and renewal of patents, utility models, trademarks, industrial designs and geographical indications are under the authorisation of Turkish Patent and Trademark Office (TURKPATENT).
Currently, there is not official mechanism to monitor IP within Turkey. IP holders usually monitor their IP rights themselves or with the assistance of an investigation firm. After detecting a possible infringement or piracy, they may initiate an infringement or unfair competition action to prohibit the use and to request compensation.
It is advised to see legal counsel on these matters.
Dispute resolution – What about it?
Turkey has a structured legal system. The judiciary is divided into the:
Constitutional Court.
Civil and criminal courts.
Administrative courts.
Courts of conflict.
Use Turkish legal experts.
Trade with Turkey – About the Author
Aidan Conaty ACMA, GCMA, MBA, is the founder of TCI China and Goodada.com. Aidan has spent over 15 years assisting companies to trade internationally. TCI China provides trade support services for China. Goodada helps companies to sell globally. Trinity College Dublin awarded Aidan the Seamus McDermott  MBA scholarship.
Aidan can be contacted email at aidan@goodada.com  or at:

(Europe/ Rest of the World) +353 1 885 3919
(UK) +44.020.3287.2990
(North America) +1.518.290.6604
Trade with Turkey – Web Resources
Turkish Industry & Business Association