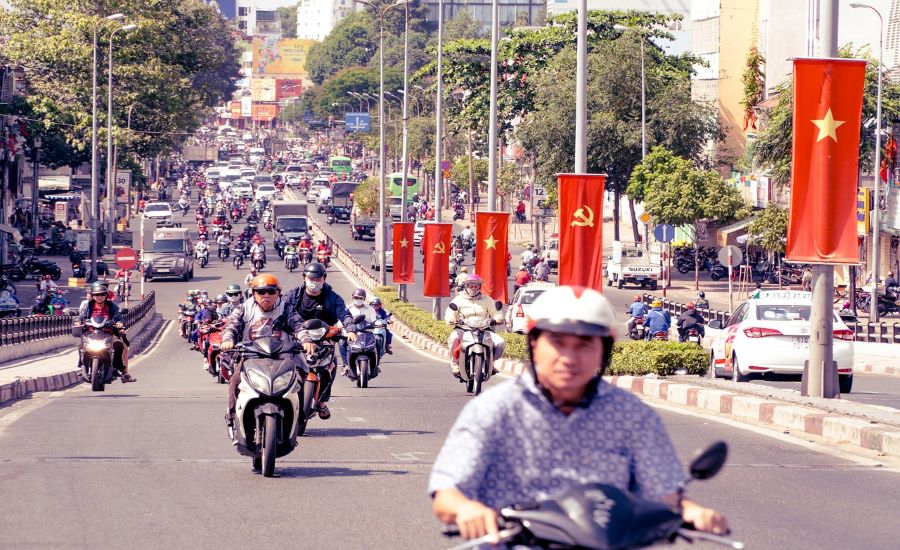 Selling to Vietnam – Overview
Selling to Vietnam – The Socialist Republic of Vietnam has removed itself from the shackles of its independence war with France and its war with the United States. Today, it is now riding on the crest of the wave of development, which is sweeping across Asia. China is starting to lose its competitive pricing edge on manufacturing, and Vietnam has become one of the primary beneficiaries as production moves away from China.
Vietnam is ranked 46th in the 2019 World GDP economy rankings (source Knoema.com).  Vietnam is ranked moderate at 70th by the World Bank in its ease of doing business rankings.
Vietnam has a population of just over 97 million people, with over 39% of the population under 25 years of age (source cia.gov).
Strengths of the Vietnamese market include:
Vietnam has an average GDP growth of 6 percent in the last 20 years. Vietnam grew 7.1% in 2018 (IMF, 2019).
Establishing itself as the destination for labor-intensive manufacturing.
Emerging as a manufacturing hub Asia especially for electronics (Samsung, LG, Intel now have operations in Vietnam).
Vietnam has the fastest-growing middle class in ASEAN, from 12 million in 2012 to an expected 30 million in 2020.
Currently, 70 percent of the Vietnamese population is under 35 years of age.
Vietnam has a well-educated, young digital-savvy generation with high mobile commerce penetration.
Challenges of doing business in Vietnam include:
High level of corruption. Vietnam is ranked 117/180 in the 2018 Transparency Index.
Strict restrictions on foreign exchange transactions.
Slow and cumbersome customs procedures.
Lack of transparency, uniformity, and consistency in government policies and decisions can make it difficult to do business.
Vietnam Business culture
A handshake and a slight bow of the head is the general custom for saying hello and goodbye.
When giving or receiving business cards, do so with both hands. Time should be spent reading the name on the card – hastily stuffing a business card or barely glancing at it is deemed offensive. When possible, seek to create a business card that has both English and Vietnamese translations.
Vietnamese names are written and introduced in the following order: last name, middle name, first name.
You should use the correct form of address for people. For example, 'Ms. An Nam To' would be 'Ms. To.'
Vietnamese people will often address foreigners by their title and first name e.g., Mr. Paul. It is not intended as a sign of intimacy or a sign of disrespect.
Moments of silence are regular during meetings. Interrupting this time of reflection can be considered rude. Further, silence may be used when someone disagrees and so not cause a loss of face for attendees.
Business attire will depend on the location of the meeting. For instance, Hanoi is known for its professional environment, while Ho Chi Minh City is more business casual.
The concept of a "win-win" business scenario is not widely ingrained in local business culture. It is vital to keep in mind when negotiating with a Vietnamese organization. Once a deal is struck in principle, Vietnamese companies may want to take more time to improve their terms and in addition try to re-negotiate – again, adding time to business deals.
As is similar to most Asian countries, Vietnamese people will spend time getting to know you and develop a connection with you. The Vietnamese make most of their business decisions based on how they see you as a person outside of the business.
At a restaurant, wait to be seated. In most cases, the oldest in the group will be seated first.
The concept of "face" is fundamental in Vietnam; an essential rule of thumb for Vietnam is that in public, treat everyone in Vietnam with respect.
Setting up in Vietnam
There are many ways you can do business in Vietnam. The most common are:
Appoint a local partner, distributor or agent –
According to current Vietnamese regulations, unless a foreign company has an investment license permitting it to distribute goods in Vietnam directly, which includes invoicing in the local currency, a foreign company must appoint an authorized agent or distributor.
Set up a representative office or branch office in Vietnam –
A representative office (RO) is generally easy to establish but is additionally the most restrictive form of official presence in Vietnam. The term "branch" office under the laws of Vietnam refers to an entirely foreign-owned business that operates in specifically designated service sectors. Branch status authorizes a foreign company to operate officially in Vietnam, including invoicing/billing on-shore in local currency and the execution of local contracts. Many foreign branch offices first entered Vietnam as representative offices and later applied for a branch license.
Form a joint-stock or Limited Liability Company –
Foreign direct investment (FDI) in Vietnam is regulated by the Department of Planning and Investment (DPI) at the local level and the Ministry of Planning and Investment (MPI) at the central level, through related implementing regulations, decrees, and circulars.
Banking and Finance
The unit of legal tender in Vietnam is the Vietnam Dong ₫ (VND).
The central bank, the State Bank of Vietnam (SBV), is the financial regulatory agency.
There are strict controls on foreign exchange transactions. There are four state-owned banks in Vietnam; they are Vietcombank, BIDV, Vietinbank, and Agribank. Some foreign banks have branches and representative offices in Vietnam. Therefore it is important to contact your bank to find out if it has a presence in Vietnam.
Selling to Vietnam – Tariffs and Non-Tariff Barriers
Tariff
Taxes and duty rates are revised continuously in Vietnam and in addition, can change without notice.
Further information on excise taxes can be obtained from the website of the Vietnam Customs.
Non-tariff barriers
Import
Exporters of food and foodstuff products to Vietnam need to register their product (one-time for one product only) with an authorized agency under the Ministry of Agriculture and Rural Development and Ministry of Health.
Product labeling, certification, and packaging
The Ministry of Science and Technology has the primary responsibility of coordinating with specialized management ministries in amending and supplementing the compulsory contents of goods labels. Product labels must include the following contents (In Vietnamese):
The name of the Product;
The name and address of the organization or individual responsible for the products;
The origin of the Products
Any other content according to the nature of each kind of product.
Food the labels, in Vietnamese, must be quantitative, and contain the following:
The production date.
The expiry date.
Warning information (if any).
The name of the food.
The name and address of the organization or individual responsible for the food.
The origin of the food.
Alcohol labels, in Vietnamese, must be quantitative and contain the following
Shelf life (if any),
Preservation instructions (for wines),
Warning information (if any),
Batch identification (if any).
The name of the alcohol
The name and address of the organization or individual responsible for the alcohol.
The origin of the alcohol.
For goods imported into Vietnam but not yet labeled, these auxiliary labels must show the compulsory contents in Vietnamese, while keeping the original labels of goods
Vietnam uses the metric system.
Packing
Exporters selling to Vietnam must ensure that any packaging used is capable of protecting the products from extreme weather and climate changes as well as the rigors of transport and handling.  The packing must meet with Vietnam packing requirements
Methods of quoting and payment
Quotes are can usually be FOB, C&F, or CIF (Incoterms 1990) basis.
An irrevocable letter of credit (L/C) payable at sight is commonly used for settlement of international transactions. It offers protection to both the exporter and the importer. The currency can be in US$ or Euro. However, Vietnamese companies often resist the use of confirmed L/C's because of the additional cost and collateral requirements from banks.
Payment terms must be agreed to in advance. It is essential that all parties understand the payment terms and a document detailing these terms is signed.
Payment terms of 60, 90, or 120 days are standard in Vietnam.
When dealing with a new customer, It is best practice to use secure payment terms such as 100% payment before shipping, letters of credit, sight drafts, or bills of exchange.
Selling to Vietnam – Documentary & Clearance Requirements
Documentation required:
Vietnamese customs procedures are complex and often subject to change. For up to date information on clearance regulations, processing times, or applying for the priority program, additionally, it is best to consult with government officials or professional service firms.
Below lists the documents which may be required by Vietnam Customs:
Bill of lading;
Import goods declaration form;
Import permit (for restricted products);
Certificate of origin
Cargo release order;
Commercial invoice;
Customs import declaration form;
Inspection report;
Packing list;
Delivery Order (for goods imported through seaports)
Technical standard/health certificate; and
Terminal handling receipts.
Customs process:
Companies that import or export goods must, therefore, submit a dossier of documents to the customs authorities. The file must include at least the company's business registration certificate and import/export business code registration certificate.
Vietnam currently prohibits the importation of weaponry, ammunition, explosive materials, military-technical equipment, firecrackers, second-hand consumer goods, types of publications,, right-hand-drive motor vehicles, materials and transport facilities, chemicals, plant protection agents prohibited from use in Vietnam, scrap and waste, refrigerating equipment using CFC, products, raw material containing asbestos of the group of amphibole, chemicals on list of prohibited chemicals.
Selling to Vietnam – Business Risks
Companies who operate in Vietnam should commit to the highest level of corporate behavior and continuously familiarise themselves with the laws of the country and the penalties about bribery of foreign officials.
Intellectual Property Protection
Vietnam has IP protection laws, but enforcement is not reliable. You'll need to take measures to protect your IP before exporting. For further help and information, contact the National Office of Intellectual Property of Vietnam (NoIP).
Trademark counterfeiting, copyright piracy, and patent infringements are issues in Vietnam. It is mainly because of ignorance among the general public as to what is and what is not a crime.
Enforcement is gradually improving from a very low level but remains precarious to date. Enforcement through civil court action is nearly impossible in practice due to a lack of capacity.
Dispute resolution
Contracts are difficult to enforce in Vietnam, particularly for foreign parties. Contracts should include dispute resolution procedures. Negotiations between the concerned parties are a common means of dispute resolution.
The Economic court in Vietnam oversees business disputes, while the Administrative court oversees issues concerning infractions of administrative procedures. The legal process in Vietnam is notoriously intransparent, tedious, and lengthy. Economic Arbitration Centres also offer dispute resolution services. The Vietnam International Arbitration Centre (VIAC) operates in close coordination with the Vietnam Chamber of Commerce and Industry.
Hiring a local legal representative is the best advice.
Selling to Vietnam – Web Resources
Vietnam Customs https://www.customs.gov.vn/default.aspx
Vietnam Trade Promotion Agency http://en.vietrade.gov.vn/
National Business Registration Portal https://dangkykinhdoanh.gov.vn
Intellasia http://www.dau-thau.com/
Ministry of Planning and Investment http://muasamcong.mpi.gov.vn/
Ministry of Foreign Affairs http://www.mofa.gov.vn/en
Vietnam Standards Agency https://tcvn.gov.vn/
Vietnam Chamber of Commerce and Industry http://vccinews.com/
Vietnam E-Commerce and Digital Economy Agency http://en.idea.gov.vn/
Vietnam E-Commerce Association http://www.vecom.vn/
Vietnam Economic Times http://vneconomy.vn/
Vietnam Investment Review http://www.vir.com.vn/
Viet Nam News http://vietnamnews.vnagency.com.vn/
WorldVest Base Financial Intelligence Services Co. Ltd. http://www.vietcr.com/
Credit Information Centre https://cic.org.vn
Selling to Vietnam – About the Author
Aidan Conaty is the founder of TCI China and Goodada.com. Aidan has spent over 15 years assisting companies to trade internationally. TCI China provides trade support services for China. Goodada helps companies to trade internationally.
Aidan can be contacted email at aidan@goodada.com or at:
(Europe/ Rest of the World) +353 1 885 3919
(UK) +44.020.3287.2990
(North America) +1.518.290.6604