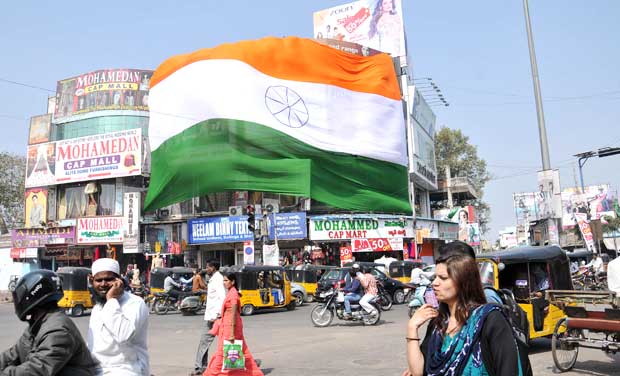 Selling to India – Overview
Selling to India – In 2020 India's GDP is forecasted to be similar to the combined GDP of France, Germany & the UK (source Euromonitor International ).  According to a PWC report India is forecasted to overtake the USA and become the 2nd largest trading nation in the world by 2050 (source PWC).
India is the one of the fastest growing economies in the world. In 2017 it made up 2.8% of world Gross Domestic Product (GDP) (source: World Economic Forum).
India is ranked as the 6th largest economy in the world (source: the World Bank).
India has a stable democratic government. However doing business in India is a challenge, it is only ranked in 100th place by the World Bank in the "Ease of doing business" rankings.
India has a population of 1,282 million people (17% of the world's population) with over 45% of the population under 25 years of age (source cia.gov).
There is a government initiative called "Make in India". Its aim is to increase the share of manufacturing GDP from 16% to 25% and create 100 million jobs by 2020.
Indian Business culture
India is a vast populated country with a diverse collection of different peoples, cultures and creeds. As the saying goes "there are many India's in India".
English can be used for business negotiations as it is widely used in written and oral communication.
In India the use of 'small talk' and enquiring on one's family is a great way to start a business meeting. Spend time to develop contacts and relationships with these contacts. Indians place great value on relationships.
The Indian culture of avoiding conflict can cause frustration to many foreign business people. Indians struggle to say "no". They will use many other words to avoid saying no. Be prepared to work on interpreting what the true meaning of a response is.
**Tip** When it comes to negotiations, it is recommended to prepare a set of indirect questions which will allow you to build up a true answer. Avoid pressing your Indian counterpart to give you a direct answer.
Other details which can have a positive impact:
Keep flexible times – Indians tend to be more relaxed about time when compared to other countries.
Be prepared for meetings to start and finish late and for interruptions to occur on a regular basis.
Indians tend to be more relaxed when business cards are given out. However it is best practice to receive the business card with the right hand and show it respect.
Keep in mind that India has a strong hierarchical culture. This means that decisions tend to be made at highest level.
Formal titles are used in India. Indians prefer using Mr or Mrs when addressing someone or being addressed by someone.
Indians like to get the best price. Be prepared to offer discounts.
Setting up in India
India has a reputation of being a challenging country due to its scale, size, cultures and laws.
One simplistic option is to think of India as four different territories:
1. India North –
States include: Haryana, Himachal Pradesh, Jammu & Kashmir, Punjab, Rajasthan, Uttar Pradesh and Uttarakhand, the Union Territory (UT) of Chandigarh (which is the capital of both Punjab and Haryana states).
Main cities: Delhi.
Population: +300 million.
2. India East –
States include: West Bengal, Bihar, Jharkhand, Sikkim, Assam, Meghalaya, Nagaland, Arunachal Pradesh, Mizoram, Tripura, and Manipur.
Main cities: Kolkata.
Population: +270 million.
3. India South –
States include: Tamil Nadu, Karnataka, Kerala, Telangana, Andhra Pradesh, and Odisha; and the Union Territories of Puducherry (Pondicherry), Lakshadweep Islands, and Andaman & Nicobar Islands.
Main cities: Chennai, Bengaluru (Bangalore), Mangaluru and Mysore.
Population: +290 million.
4. India West –
States include: Maharashtra, Gujarat, Madhya Pradesh, Chhattisgarh, and Goa.
Main cities: Mumbai, Ahmedabad, Surat, Vadodara, Rajkot, Pune, Nagpur, Aurangabad, Panaji, Raipur, Indore, Bhopal, and Gwalior.
Population: +280 million.
Companies considering entry into the India have a selection of options which they carefully need to choose from including:
Direct export to India – Find your own customers.
Selling online to India – Find your own customers.
Direct sales in India using local representation.
Setting up a corporate or non-corporate entity in India.
Establishing a franchise in India.
Banking and Finance
The unit of legal tender in India is the India Rupee ₹ (INR).
India has an extensive well-established banking and financial system.
The Reserve Bank of India (RBI) is the central banking institution. It is the sole authority for issuing bank notes and the supervisory body for banking operations in India.
Foreign Exchange Controls exist in India under its Foreign Exchange Management Act.
Selling to India – Tariffs and Non-Tariff Barriers
Tariff
India has very few trade agreements with other countries and trading blocks.
Tariffs and duty rates are continually reviewed and are subject to change without notice. It is worth visiting India's Customs Service to determine any customs or import taxes in India for your goods or service.
Non-tariff barriers
India often applies anti-dumping laws on foreign products in order to protect its domestic producers. Please click on the link to find a list of anti-dumping notices issued by Indian Customs.
India imposes restrictions on the sale or use of certain products including:
Livestock products.
Chemical products.
Motorcycles.
Pharmaceuticals products.
Some products such as animal fats are banned from import into India. When selling to India you should always establish if your products are allowed to be imported into India.
Product labelling, certification and packaging
English or Hindi is only the accepted import languages for labels in India.  The metric system is used in India.
There are two main label vetting systems in India. The first is Indian Customs and the second is the Food safety & Standards Authority of India.
Indian Customs are strict and ensure that imported items have the legally required information before these enter the retail market or are sold for consumption. India Customs check that labels have the following:
Name and address of the importer.
Generic or common name of the commodity packed.
Net  quantity  in  terms  of  standard  unit  of  weights  and  measurement.
Month and year of packing in which the commodity is manufactured, packed or imported, and the maximum retail sales price (MRP) at which the commodity in packaged form may be sold to the end consumer.
Indian Food Safety & Standards require the following to be placed onto labels:
Name, trade name or description.
Name of ingredients used in the product in descending order of their   composition by weight or volume.
Name and complete address of manufacturer/packer, importer, country of origin of the imported food (if the food article is manufactured outside India, but packed in India).
Net weight, number or volume of contents.
Distinctive batch, lot or code number.
Month and year of manufacture and packaging.
Month and year by which the product is best consumed.
Maximum retail price.
Where appropriate, the product label also has to contain the following:
The purpose of irradiation and license number in case when selling to India irradiated food.
Extraneous addition of colouring material.
Non-vegetarian food – any food which contains whole or part of any animal including birds, fresh water or marine animals, eggs or product of any animal origin as an ingredient, not including milk or milk products – must have a symbol of a brown colour-filled circle inside a brown square outline prominently displayed on the package, contrasting against the background on the display label in close proximity to the name or brand name of the food.
Vegetarian food must have a similar symbol of green colour-filled circle inside a square with a green outline prominently displayed.
Certification
Used garments require a certificate of fumigation which must be provided by an approved authority in the country of origin.
Livestock imports must be accompanied by a sanitary certificate issued and certified by an approved authority in the country of origin.
Plants, plant products and leaf tobacco require phytosanitary certificates issued by an approved authority in the country of origin and certified by an approved organisation.
Leaf tobacco must be accompanied by a special certificate stating that the tobacco is free from ephestia elutella or that the pest does not exist in the country of origin.
Port wine requires a certificate indicating alcoholic content and spirits may need a certificate of maturity.
Packing
Steel strapping is recommended. Exporters should make sure that any packaging used is capable of protecting the products from extreme weather and climate changes as well as the rigors of transport and handling.
Methods of quoting and payment
There are exchange controls in India. Foreign currency money transfers from India are subject to restrictions under the FEMA.
An irrevocable letter of credit (L/C) payable at sight is commonly used for settlement of international transactions. It offers protection to both the exporter and the importer.
Payment terms must be agreed to in advance. Whatever payment terms are agreed upon, make sure they are understood by all parties and that your client, representative or contact signs a mutually agreed document.
Prices should be quoted in either US dollars or Indian rupees. These are the best currencies to use when selling to India.
It is best practice for sellers dealing with new customers to use secured payment terms such as 100% payment prior to shipping, letters of credit, sight drafts or bills of exchange.
Documentary & Clearance Requirements
Documentation required when selling into India
Apart from any applicable certifications, there are no formal import documentation requirements for India.  So standard mandatory documents required for international imports should be applied. These documents include:
bill of lading or airway bill.
commercial invoice cum packing list.
bill of entry.
Customs process
It is best practice to use a shipping forwarder who will have extensive knowledge of customs process and documentation requirements for India. The shipping forwarded will be able to organise for your products to be processed through customs.
Business Risks when Selling to India
Companies wishing to operate in India should commit to the highest level of corporate behavior and familiarize themselves with the laws of the country and the penalties pertaining to bribery of foreign officials.
Intellectual Property Protection
India's IP regime continues to fall short of global best practices and standards. India's lack of effective IP enforcement is affecting inward investment from foreign companies and should also be taken into account by companies who are selling to India.
In 2016 India established its first IP Crime Unit.
Dispute resolution
India is a quasi-federal nation comprising of 28 States and 7 Union (federally administered) Territories with a diversity of cultures, languages, religions and customs.
India's legal system is based on English common law and the judiciary are somewhat autonomous.
Hiring a local legal representative is common practice. It is worth noting that court delays can run to many years making litigation very expensive and lengthy. This can be a challenge when selling to India.
Selling to India – India Web Resources
The Associated Chambers of Commerce and Industry of India
Central Board of Customs and Excise
Confederation of Indian Industry
Federation of Indian Chambers of Commerce & Industry
Ministry of Commerce and Industry
Ministry of Finance
Reserve Bank of India
Export-Import Bank of India
Indian Renewable Energy Development Agency Limited
Industrial Development Bank of India
Power Finance Corporation Limited  
Export Credit Guarantee Corporation of India Limited
Insurance Regulatory and Development Authority 
Life Insurance Corporation of India
Securities and Exchange Board of India  
National Securities Depository Limited
National Stock Exchange of India
Stock Exchange, Mumbai 
 About the Author
Aidan Conaty is the founder of Goodada & TCI China. Aidan is a qualified Management Accountant and has a background is in Supply Chain Consultancy.