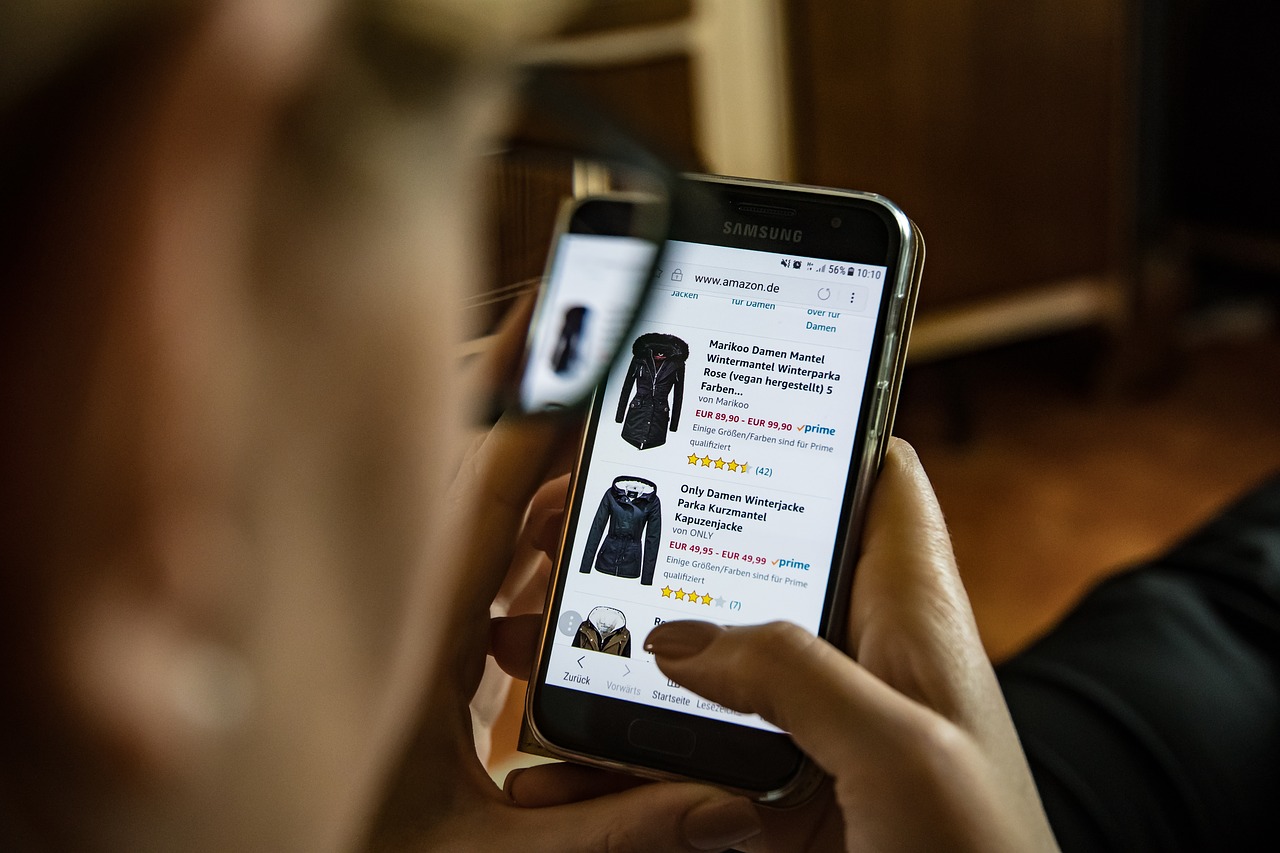 Online Store in China – E-Commerce General Overview 
How to set up an online store in China – China has now become the largest internet market in the world with more than 800 million internet users and a population penetration rate of 64%.
As a result, it has overtaken the US to become the world's number one online shopping market, with the country currently accounting for more than 40% of all global e-commerce retail sales. China has a broader e-commerce market compared to the combined totals of the USA and the European Union.
Therefore with a population of over 1.38 billion people with a total GDP of 11.2 trillion USD and GDP per capita of 9,147 USD and is expected to reach 12,363 USD by 2022 (source Worldbank.org), in other words, China has a vast sales growth potential.
There are four main reasons why e-commerce has seen such a rapid rise and growth in China when compared to other countries:
1. Rapid urbanisation
Did you know that today, China has 160 cities with a population of over 1 million people compared to the USA which has only ten cities?
2. Emerging middle and affluent classes
In 2004 only 4% of the population, in China, was classified as middle class. In 2012 it skyrocketed to 68%. It is forecasted that by 2022 it will be 75% (Source: McKinsey).
3. Exponential increases in production and consumption
China's demands for imported products such as foods are increasing.
4. Lack of legacy structures
E-commerce migration in Western countries, unlike China, is very much restricted by:
Personal computers.
Traditional online retail.
Postal services.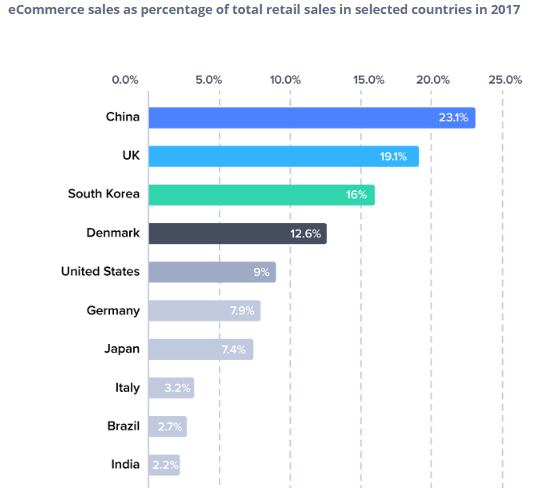 A break down of the top 10 e-commerce countries
1. Today there are currently 722.4 million online shoppers in China. As a result, the average spend per person is US$866.16 USD annually. The amount of online shoppers is expected to grow to over 931.8 million by 2022.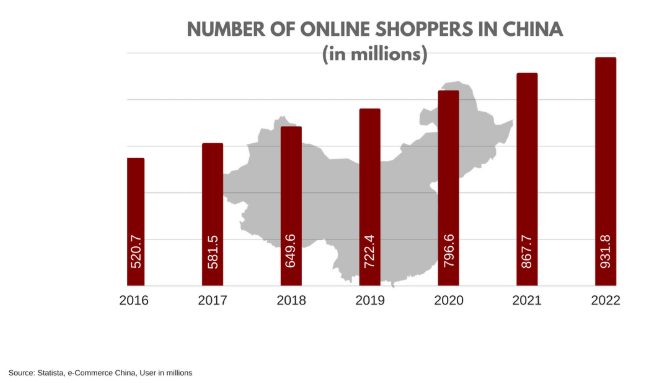 2. E-commerce traffic is mainly driven by under the under 35's which account for over 52% of traffic. If you sell products that appeal to under 35's now is the time to start selling online in China. However, if the 35-44-year-old category is also included, this brings the total number to over 75%.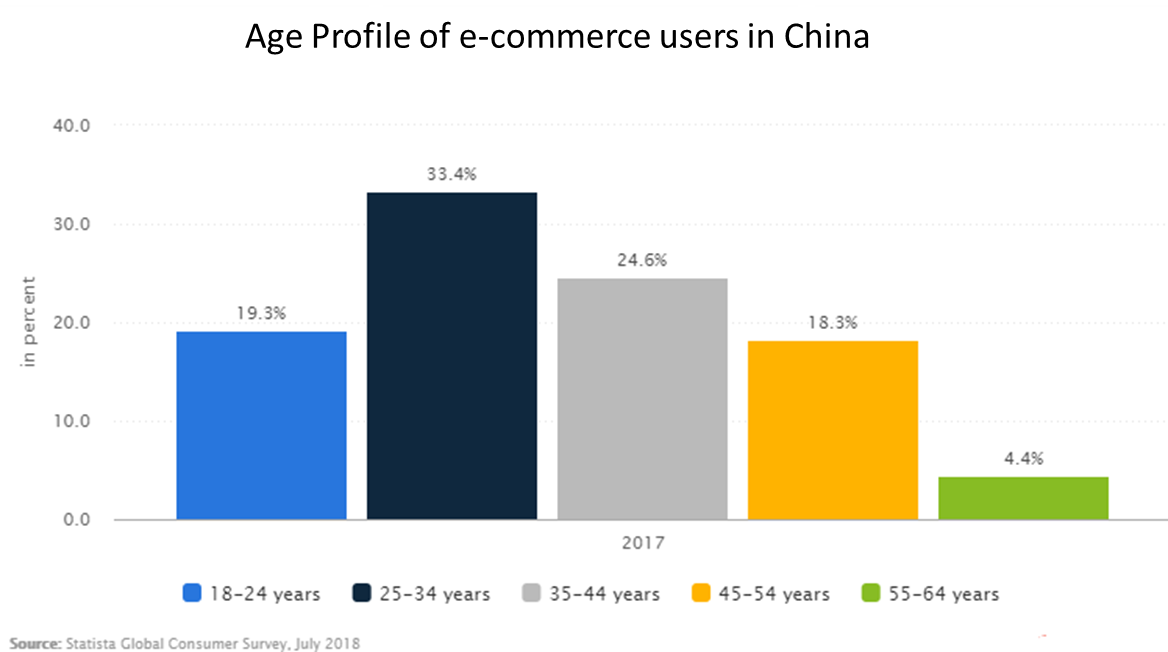 3. A detailed analysis of the types of products which Chinese consumers are interested in buying from international companies is available on "What to Sell" from a previous post titled China Sales Strategy which I wrote.
Below is a forecast of e-commerce sales in basic categories up to 2023. For example, Food & Personal Care is expected to grow by 52%; Furniture & Appliances are expected to increase by 55% along with Toy & Hobbies. Electronics & Media e-commerce sales are forecasted to grow by 41% while Fashion is predicted to increase by 54%.
Forecasted E-Commerce Growth for Key Categories in China
(in Millions)

2017 

2018

2019

2020

2021

2022

2023

Food & Personal Care

$41,416

$45,909

$52,432

$60,394

$68,361

$74,939

$79,580

Furniture & Appliances

$85,310

$94,153

$107,912

$124,981

$142,106

$156,518

$167,158

Toys & Hobbies

$98,026

$110,673

$127,649

$148,248

$168,866

$186,068

$198,452

Electronics & Media

$124,513

$134,922

$149,654

$167,430

$185,209

$199,964

$210,436

Fashion

$217,815

$243,844

$280,743

$325,232

$369,738

$406,822

$433,361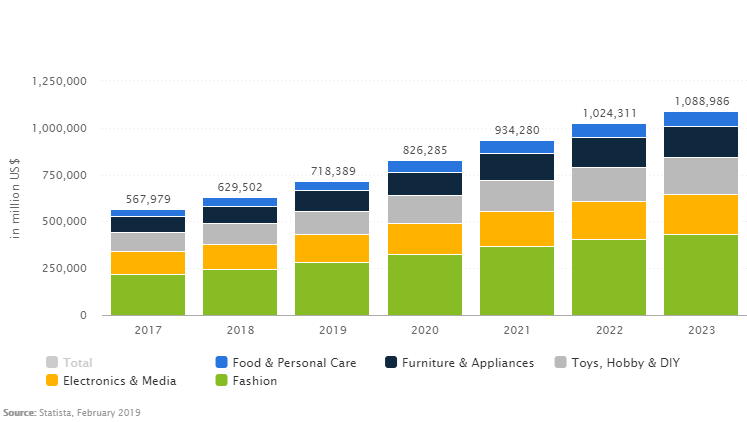 (Source: Statista)
What e-commerce platforms in China should you set up an online store?
Two platforms dominate the market in China. As a result, they account for 75% of all e-commerce transactions, they are TMall and JD.com. In April 2019, Amazon announced that it would pull out of China in July 2019.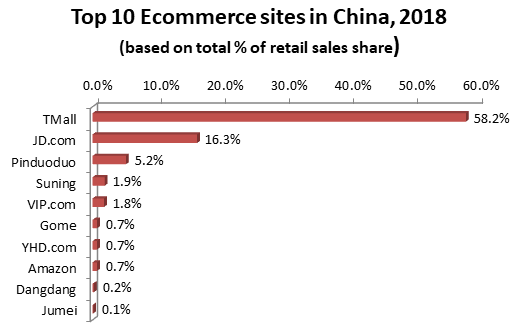 How to set up an online store in China
The best approach is to open online stores on the TMall and JD.com e-commerce platforms. Goodada recommends that the optimal strategy is to first set up an online store on the TMall platform, once this store has been fully established and trading, only then should you consider setting up an online store on the JD.com platform.
Below is an outline of the stages to set up an online store on TMall.
You must have the following in order to be able to commence the application process to set up an online store with TMall:
 1. TMall rules state that all foreign companies are required to have a certified and bonded Chinese company to support their TMall application. Contact Goodada for this service.
 2. Your company or brand must be trademarked. TMall only accepts foreign companies who have registered trademarks. Please note that TMall accepts international trademarks.
Stage 1 – Contact Goodada
Contact Goodada to commence the application process with TMall.
Stage 2 – Open a store on TMall
An application is submitted to TMall to open a store on their platform. Therefore, you should provide Goodada with:
1. A copy of your companies business license.
2. Details of the names of the company directors along with copies of their passports.
3. A copy of the companies' bank statement or a certificate of the company's bank account.
4. A copy of the trademark registration certificate.
Stage 3 – Sell products on TMall
An application is submitted to TMall to sell products through your online store. Therefore the application will require the following information:
1. Contact details of the Chinese agent company and contact person. (Provided by Goodada)
2. Online customer service contact information, in Chinese. (Provided by Goodada)
3. A China company license (Provided by Goodada).
4. A China address. (Provided by Goodada)
5. A China mainland address for any returned purchases. (Provided by Goodada)
6. A Taiwan address, if selling into Taiwan, for any returned purchases. (Provided by Goodada)
7. A Hong Kong address, if selling into Hong Kong, for any returned purchases. (Provided by Goodada)
Stage 4 – Security Deposits   

     
TMall will require a security deposit. At the time of writing, the security deposit requirements of TMall are listed below. However, contact Goodada to be updated on the current rates:
– RMB 150,000 (for China mainland).
– RMB 300,000 (for China mainland, Hong Kong & Taiwan).
Stage 5 – Uploading Product information onto your online store
Once approval is confirmed, you are able to upload your products onto your online store and commence selling online. The information required includes:
1. A detailed description of each product in Chinese. (Goodada can provide Chinese translation services). Products specification must use an international metric unit of measurement.
2. Images of each product, all images must be in the following format:
– Five images with a white background.
– Product photos size should be 800*800mm.
– Please place a trademark logo on the top left of the photo; the logo size should be 10% of the picture.
TMall Charges & Fees
TMall has an annual charge of RMB 60,000 (approx. US$8,950). Furthermore, it also charges a 5% commission on the total sales price. For updated TMall prices please contact Goodada.
Tip How to compete on e-commerce platforms in China
Tip# 1
For companies wishing to develop sales into the Chinese market, the focus for product ranges should be on scarcity rather than price point, as Chinese taxes on imported goods will likely make it difficult to match prices on goods that are already available domestically.
Tip# 2
Above all else remember that Chinese consumer demand is for a more extensive selection of better quality products.
About the Author
Aidan Conaty is the founder of TCI China and Goodada.com. Aidan has spent over 15 years advising companies on their international sales strategies. Aidan holds a Masters in Business Administration and is a qualified management accountant.
Aidan can be contacted email at aidan@goodada.com or be contacted at:
(Europe/ Rest of the World) +353 1 885 3919
(UK) +44.020.3287.2990
(North America) +1.518.290.6604