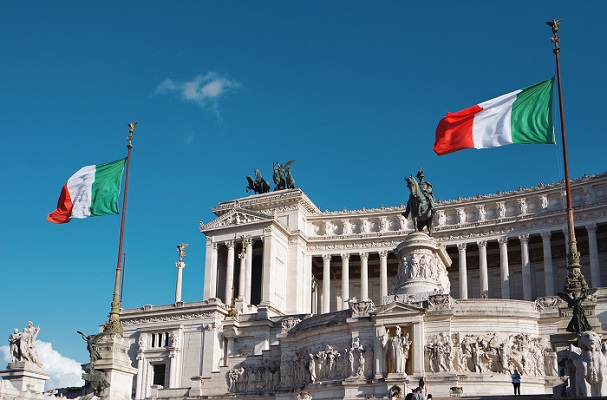 Trading with Italy – Overview
Trading with Italy – Italy is the European Union's third-largest economy and its second-largest manufacturer of products. It was one of the founding countries of the European Union. Italy is regarded as one of the "Mediterranean Countries" within the European bloc. In 2018, it made up 2.42% of world Gross Domestic Product (GDP) (source: World Economic Forum).
In 2019, the Italian economy was ranked as is the 8th largest economy in the world, according to the World Bank.
Italy is a democratic republic with legislative, executive, and judicial structures. Italy is ranked at 58th place by the World Bank on its ease of doing business rankings. This ranking is between Kosovo and Chile.
Italy has 62.402 million people, with 23.06% of the population under 25 years of age (source cia.gov).
As part of the EU, Italy makes its international trade deals via the European Union. It is a dominant market within the European Union and accounts for 11.2% of the European Union's GDP in 2017 (source: Eurostat)
Small and medium-sized firms (SMEs) -many of them family-owned -comprise 99% of Italian businesses and produce 68% of Italy's GDP.
Italy can be roughly broken into two sections, the industrialized North (Turin, Milan, Venice), which accounts for most Italian GDP, and Mezzogiorno (South Italy), which is less well developed.
Trading with Italy – Italian Business culture
Italian is, naturally, the language of Italy. Before attending a business meeting in Italy, it would be common courtesy to confirm in advance if the attendees can speak English. If not, then the use of an interpreter may be required. It is important to make appointments for meetings.
In Italy, formal titles and surnames are used in initial meetings and correspondence; however, as relationships develop, it may become more informal.
Relationships are essential in Italy; this should be one of the critical initial priorities of any firm wishing to trade in Italy.
Dress and presentation play an important role in Italian culture. Formal attire is generally expected for business meetings, for the most part, dark colors for businessmen. Businesswomen tend to wear elegant and modest pant or skirt suits, accessorized with simple jewelry and makeup.
Business deadlines are not as sensitive in Italy than other countries, work plans are often not taken too strictly, so some flexibility can be built into a deadline. Where a deadline must be firmly met, be sure to make it very clear to your Italian counterparts.
Business cards are exchanged quite soon after the commencement of a meeting. Avoid double-sided business cards.
Setting up in Italy
Invitalia is the National Agency for Inward Investment and Economic Development. The Italian Ministry of Economy runs it.
Firms wishing to enter into the Italian market have a variety of options, including:
Using a sales agent. Firms should verify that any agreements which they make are under EU laws – Council Directive 86/653/EEC.
Establishing a local Italian representative office. It is recommended for some industries to set up a regional office in Italy.
Franchising. Franchising is growing in Italy. Italy is the fourth largest market in Europe for franchises. However, this is primarily concentrated in the Northern half of Italy. For more information about franchising in Italy, please visit Assofranchising: the Italian Franchising Association.
Joint venture or strategic alliance. European Union rules and regulations need to be taken into account when considering this strategy.
eCommerce. Italy is lagging in terms of eCommerce development. In part, this is due to Italy being a mature market and the high number of small businesses. However, post-COVID-19, there are signs of eCommerce starting to evolve in Italy.
Sourcing from Italy
Italy's primary exported commodities include:
Engineering products,
Textiles and clothing,
Production machinery,
Motor vehicles,
Furniture,
Chemicals;
Foodstuffs,
Beverages
When sourcing from Italy, it is recommended to have Quality Control Inspections and Seller Verifications conducted at the Italy suppliers firm. Goodada's Italy Supplier Verification & Quality Control Inspection Services offers these services across all of Italy.
If you are buying furniture from Italy – Goodada has a dedicated Italy Furniture Inspection Service. If you are looking to find Italian Furniture Suppliers or are seeking Furniture Quality Control Inspectors, please visit Goodada's Italian Furniture page.
Banking and Finance
The unit of legal tender in Italy is the Euro (€ EUR).
Italy has a well-developed banking and credit system. While there are numerous banks across Italy, recent counts indicate there are approximately 580 banks. Twelve banks are classified as "significant." The top six banks in Italy, according to their assets, are Unicredit SpA, Intesa Sanpaolo, Cassa Depositi e Prestiti, Banco BPM, Banca Monte dei Paschi, and UBI Banca.
The banking industry in Italy is currently undergoing significant reform, and there is a political will to consolidate the banking sector.
Trading with Italy – Tariffs and Non-Tariff Barriers
Tariff
European Import agreements and rules apply to any products which are exported to Italy. To learn more about the European Union countries' trade agreements, please visit the EU's Negotiations & Agreements page.
Tariffs and duty rates are constantly revised and are subject to change without notice. To determine if your products can be exported to Italy and to calculate any import duties or taxes, please visit Italy's Customs Service website.
Non-tariff barriers
Italy imposes restrictions on the sale or use of certain products, including:
Agricultural products.
Chemical products.
Cultural goods.
Food products.
Fauna and Flora.
Ores and Alloys.
Pharmaceuticals products.
Products for Torture.
Weapons and Explosives
Product labeling, certification, and packaging
Product labels in Italy are governed by European Regulations as well as Italian regulations. Labels must be in Italian. Information on the labeling of products in the interest of consumers and compliance procedures are available at Summaries of EU Legislation.
Food information and labeling legislation must comply with EU legislation. Please click on Food Labelling Information to learn more. For organic produce, EU legislation requires that imported organic food from non-EU countries (third countries) be produced to the same standards as that from the EU. For more information, visit Trade in organic products.
The CE mark is a mandatory conformity marking for certain products sold within the European Economic Area (EEA).
The EU also may require certain marks for specific products. A mark is a symbol or pictogram that appears on a product or its packaging—these range in scope from signs of danger to indications of proper recycling and disposal methods.
Such marks intend to provide market surveillance authorities, importers, distributors, and end-users with information concerning safety, health, energy efficiency, and environmental issues relating to a product. For more information about EU Marks and requirements, please click here.
Certification
As Italy is part of the European Trading Bloc, all exporters who wish to export products to Italy, such as food products, must adhere to EU regulations. Information for EU Food requirements can be found here. It is also worth checking to establish if Italy has any additional certification requirements.
Packing
It would be best to have your packaging approved with the importer in Italy as their market might have some specific preferences. Goods should be marked according to European Union requirements.
Methods of quoting and payment
Cash Sales are prevalent in Italy; however, many Italian companies will still ask for credit.
Letters of credit, due to their high costs, are not popular in Italy. It is strongly advised to get credit insurance on any credit transaction.
Payment terms must be agreed to in advance, which can include 30/60/90 day terms. Some Italian firms seek up to two years for certain types of products/ projects. Whatever payment terms are agreed upon, please make sure all parties understand them and that your client, representative, or contact signs a mutually agreed document.
Trading with Italy – Documentary & Clearance Requirements
Documentation required:
For information about Italy's documentary requirement, you should visit the EU's Trade Help desk Page.
The single administrative document (SAD) is a form used for customs declarations in the EU, Switzerland, Norway, Iceland, Turkey, the Republic of North Macedonia, and Serbia. It is composed of a set of eight copies, each with a different function.
All companies established outside of the EU are required to have an EORI number. For more information on EORI numbers, please visit the EU EORI's page.
Customs process:
Before moving goods into the Union's customs territory, an entry summary declaration should be lodged. The declaration is mainly intended to enable customs to conduct a risk analysis for security and safety purposes. The entry summary declaration must be distinguished from the summary declaration for temporary storage, which is a notification of presentation to customs and serves the purpose of registering the goods.
Exporters to Italy can find information about the Import requirements from the Italian Customs website.
European Union Customs procedures for import and export can be found here.
Trading with Italy – Business Risks
It is recommended to get insurance for your products. Goodada Insurance provides clients with online insurance facilities.
Businesses wishing to operate in Italy or any European Country should commit to the highest level of corporate behavior and familiarise themselves with Italian and European laws on bribery and the penalties about officials' corruption.
Intellectual Property Protection
The Directorate-General for the Protection of Industrial Property Italian Patent and Trademark Office in the Ministry of Economics is one of Italy's key offices concerning patents and IP protection.
For Copyright information, the General Direction for libraries and copyright Ministry for cultural heritage and activities and tourism oversees this area
Dispute resolution
Italy has a very well established legal system. This system is also intertwined with the legal system of the European Union. Hiring legal expertise is highly recommended.
Trade with Italy – About the Author
Aidan Conaty MBA ACMA GCMA is the founder of TCI China and Goodada.com. Aidan has spent over 15 years assisting companies to trade internationally. TCI China provides trade support services for China. Goodada helps companies to sell globally. Aidan was awarded the Seamus McDermott  MBA scholarship from Trinity College Dublin.
Aidan can be contacted email at aidan@goodada.com  or at:

(Europe/ Rest of the World) +353 1 885 3919
(UK) +44.020.3287.2990
(North America) +1.518.290.6604
Trading with Italy – Web Resources
Italian Ministry of Foreign Affairs
Associazione Industrie per l'Aerospazio, i Sistemi e la Difesa: Italian Association of Aerospace and Defense Industries
Associazione Bancaria Italiana: Italian Banking Association
Associazione Nazionale fra Industrie Automobilistiche: Italian Automotive Industry Association
Associazione Nazionale fra le Imprese Assicuratrici: Italian Association of Insurance Companies
Associazione Italiana del Franchising: Italian Franchising Association
Confederazione Italiana della Piccola e Media Industria" Italian Confederation of Small and Medium Industries
Associazione Nazionale dell'Industria Farmaceutica: Italian National Association of Pharmaceutical Industries
Federazione Nazionale dell'Industria Chimica: Italian Federation of Chemical Industries
Unione Italiana delle Camere di Commercio Industria Agricoltura e Artigianato: Italian Union of the Chambers of Commerce, Industry, Handicraft and Agriculture. Umbrella organization responsible for all chambers of commerce in Italy
Useful European Union Web Resources
Coordination of the laws of the Member States relating to self-employed commercial agents (Council Directive 86/653/EEC)
Agreements of Minor importance which do not appreciably restrict competition under Article 101(1) of the Treaty establishing the European Community
EU's Data Protection Directive (95/46/EC)
EU's General Data Protection Regulation (GDPR)(2016/676/EC)
Information on contracts for transferring data outside the EU
Distance Selling of Financial Services
EU VAT Directive 2006/112/EC and its Implementing Regulation 282/2011
The Unfair Commercial Practices Directive /
Nutrition and Health Claims made on foods- Regulation 1924/2006
Regulation on Food Information to Consumers
Legal Warranties and After-Sales Service
EU Intellectual Property Office (EUIPO)
World Intellectual Property Organization (WIPO) Madrid