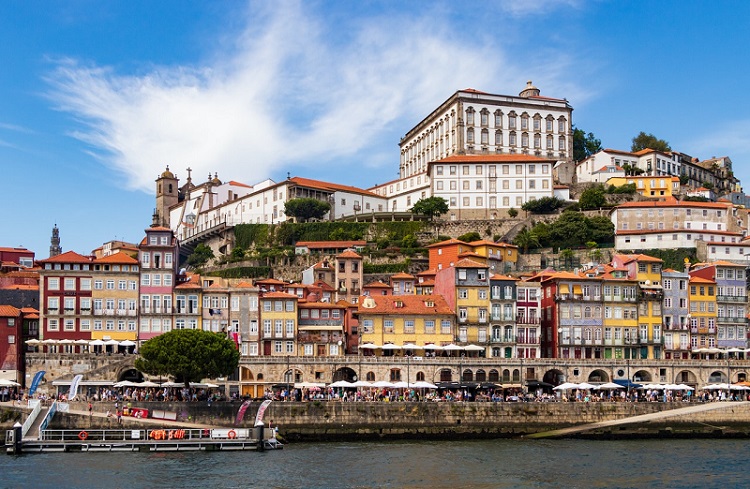 Trade with Portugal – Overview
Trade with Portugal – Portugal is a member of the European Union (EU). In terms of GDP, Portugal is the European Union's 15th largest economy. However, it holds a unique place with the European Union as it is a gateway into the EU and other countries around the world, which were former Portuguese colonies. These counties include Macau, Mozambique, Angola, and Brazil. Portugal is considered one "Mediterranean Countries" within the European bloc.
In 2019, the Portuguese economy was ranked as the 49th largest economy in the world, according to the World Bank.
Portugal is the oldest nation-state on the Iberian Peninsula and one of the oldest in Europe. Portugal is a democratic republic with legislative, presidential, government, and judicial structures. Portugal is ranked at 39th place by the World Bank on its ease of doing business rankings. This ranking is behind Rwanda and ahead of Poland.
Portugal's population is 10.3 million people, with 24.5% of the population under 25 years of age (source cia.gov).
As a European Union member, international trade deals with Portugal will be trade deals with the European Union.  It is a mid-ranking market within the European Union and accounts for 1.5% of the European Union's GDP in 2019 (source: Eurostat)
Trade with Portugal – Business culture
Portuguese is the language of Portugal and is the ninth most spoken language in the world.
It is common in Portugal to initially focus on establishing and developing a personal relationship with any potential business partner. The Portuguese prefer to work with someone they know well, whom they respect, and whom they trust. It is essential to have face to face meetings.
Extended lunches and restaurant dinners are part of the typical working day in Portugal.
Unlike their Mediterranean cousins, the Portuguese are not prone to dramatic scenes or emotional outbursts.
The Portuguese are comprehensive and have an eye for detail, which makes them careful and considerate planners. Long-term and short-term influences and developments are taken into account while establishing long-term relationships with clients, suppliers, partners, etc. is among most business peoples' primary objectives.
The Portuguese adopt a relaxed approach when it comes to timekeeping. Business appointments should be made about two weeks in advance, and it is advisable to re-confirm them a couple of days before the meeting.
Business contacts are generally not addressed on a first-name basis in the initial contact. Titles are widely used (e.g., Dr, Prof) in meetings, interviews, and correspondence.
Dress is formal but fashionable.
Business cards are exchanged quite soon after the commencement of a meeting.
Setting up in Portugal
Portugal Global – Trade & Investment Agency (AICEP) is a government agency that helps companies set up, trade-in, and source from Portugal.
Firms wishing to enter into the Portuguese market have a variety of options, including:
Using a sales agent. Firms should verify that any agreements which they make are under EU laws – Council Directive 86/653/EEC.
Establishing a Portugal representative office. It is also worth remembering that this office can also be used as a gateway into Portugal and the European Union and Lusophone Africa.
Franchising. Franchising is a possible option in Portugal as it is widely accepted. For more information about franchising in Portugal, please visit the Portuguese Franchise Association-ASSOCIAÇAO PORTUGUESA DA FRANCHISE –(APF).
Joint venture or strategic alliance. European Union rules and regulations need to be taken into account when considering this strategy.
eCommerce. Ecommerce is well established within the Portuguese market—over 30% (3 million) of the population shop online. 
Buying from Portugal
Portugal is a country that offers a lot of product sourcing opportunities. To find the names of potential producers and suppliers of products, please visit our Portugal Supplier Database.
Some of the leading products which can be sourced from Portugal include:
Chemicals,
Clothing,
Footwear,
Glassware,
Paper and pulp,
Porcelain and ceramics,
Seafood
Textiles,
Wine and Liquor,
Wood and cork,
When sourcing from Portugal, it is recommended to have Quality Control Inspections and Seller Verifications conducted at the factory or warehouse in Portugal. Goodada's Portugal Supplier Verification &  Quality Control Inspection Services offer these services across all parts of Portugal.
Banking and Finance
The unit of legal tender in Portugal is the Euro (€ EUR).
Portugal's banking system has undergone changes since Portugal's financial crisis 2010-2014. The largest bank in Portugal is the Caixa Geral de Depósitos (CGD).
Trade with Portugal – Tariffs and Non-Tariff Barriers
Tariff
EU Trade deals and rules apply to any products which are exported to Portugal.  To find out about the countries or trading blocs the European Union has trade agreements with, please visit the EU's Negotiations & Agreements page.
Tariffs and duty rates are constantly revised and are subject to change without notice. To determine if your products can be exported to Portugal and calculate any import duties or taxes, visit Portugal's Customs website.
Non-tariff barriers
Portugal imposes restrictions on the sale or use of certain products, including:
All forms of asbestos fibers
All products containing the biocide dimethylfumarate (DMF)
Animal products
Atlantic red tuna fish (Thunnus Thynnus) originating from Belize, Panama, and Honduras
Certain U.S. Beef hormones
Cologne and Perfume, Haz and Non-Haz
Cosmetics
Dangerous Goods as defined by IATA (Intl. Air Transport Association)
Drugs, Non-Prescription
Explosives and Radioactives
Foodstuffs
Illicit Narcotics and Drugs
Items having a flexible metal blade entirely contained in a plastic, paper, or fabric sheath
Ivory
L-trytophane and any items having L-trytophane as an ingredient
Medical samples
Medical thermometers containing mercury intended for human consumption
Plants and Plant Products
Precious metals & stones
Rubber erasers that are similar in appearance to food products that are easily ingested
Textile articles
Tobacco and Tobacco Leaves
Toys and games containing copper sulfate
Product labeling, certification, and packaging
Product labels in Portugal are governed by rules and regulations from the European Union. Labels must be in Portuguese. Information on the labeling of products in the interest of consumers and compliance procedures are available at Summaries of EU Legislation.
Food labeling details must adhere to European Union laws. For more information, visit Food Labelling Information. For organic produce, EU legislation requires that imported organic food from non-EU countries (third countries) be produced to the same standards as that from the EU. For more information, visit Trade in organic products.
The CE mark is a mandatory conformity marking for certain products sold within the European Economic Area (EEA).
The EU also may require certain marks for specific products. A mark is a symbol or pictogram that appears on a product or its packaging—these range in scope from signs of danger to indications of proper recycling and disposal methods.  Such marks intend to provide market surveillance authorities, importers, distributors, and end-users with information concerning safety, health, energy efficiency, and environmental issues relating to a product.  For more information about EU Marks and requirements, please click here.
Certification
All exporters who wish to sell goods to Portugal, such as food, must follow EU laws and rules. Information for EU Food requirements can be found here.
It is also recommended to check and establish if Portugal has any additional certification requirements.
Packing
It would help if you had your packaging approved with any buyer or an agent in Portugal as their market might have some specific preferences.  Packing must meet EU rules and regulations.
Methods of quoting and payment
Payment terms must be agreed to in advance, which can include 30/60/90 day terms. Whatever payment terms are agreed upon, please make sure all parties understand them and that your client, representative, or contact signs a mutually agreed document.
Documentary & Clearance Requirements
Documentation required:
For information about Portugal's documentary requirement, you should visit the EU's Trade Help desk Page.
All companies established outside of the EU are required to have an EORI number. For more information on EORI numbers, please visit the EU EORI's page.
Customs process:
Before moving goods into Portugal and the EU, an entry summary declaration should be submitted.
Those firms sending products to Portugal can learn about Portugal's import rules and regulations from the Portugal Customs website.
European Union Customs procedures for import and export can be found here.
Trade with Portugal – Business Risks
If you are transporting goods from or to Portugal it is strongly advised to secure Cargo Insurance. Goodada Insurance provides clients with online insurance facilities.
Businesses wishing to operate in Portugal or any European Country should commit to the highest corporate behavior level and familiarise themselves with Portuguese and European laws on bribery and the penalties about officials' corruption.
Intellectual Property Protection
The Portuguese Institute of Industrial Property (INPI) is the Portuguese government organization that protects and promotes industrial property.
Dispute resolution
Portugal has a very well established legal system. This system is influenced by the legal system of the European Union. Hiring legal expertise is highly recommended.
Trade with Portugal – About the Author
Aidan Conaty ACMA, GCMA, MBA, is the founder of TCI China and Goodada.com. Aidan has spent over 15 years assisting companies to trade internationally. TCI China provides trade support services for China. Goodada helps companies to sell globally. Trinity College Dublin awarded Aidan the Seamus McDermott  MBA scholarship.
Aidan can be contacted email at aidan@goodada.com  or at:

(Europe/ Rest of the World) +353 1 885 3919
(UK) +44.020.3287.2990
(North America) +1.518.290.6604
Trade with Portugal – Web Resources
AICEP – Portuguese Trade and Investment Promotion Agency
Portuguese Institute of Industrial Property (INPI)
Portuguese Franchise Association
Useful European Union Web Resources
Coordination of the laws of the Member States relating to self-employed commercial agents (Council Directive 86/653/EEC)
Agreements of Minor importance which do not appreciably restrict competition under Article 101(1) of the Treaty establishing the European Community
Directive on Late Payment
European Ombudsman
EU's Data Protection Directive (95/46/EC)
EU's General Data Protection Regulation (GDPR)(2016/676/EC)
Information on contracts for transferring data outside the EU  
EU Data Protection Home page
Consumer Rights Directive
Distance Selling of Financial Services
EU VAT Directive 2006/112/EC and its Implementing Regulation 282/2011
The Unfair Commercial Practices Directive /
Nutrition and Health Claims made on foods- Regulation 1924/2006
Regulation on Food Information to Consumers
Health & Nutrition Claims
Tobacco Policy
Product Liability
Product Safety
Legal Warranties and After-Sales Service
Copyright
European Patent Office (EPO)
EU Intellectual Property Office (EUIPO)
World Intellectual Property Organization (WIPO) Madrid