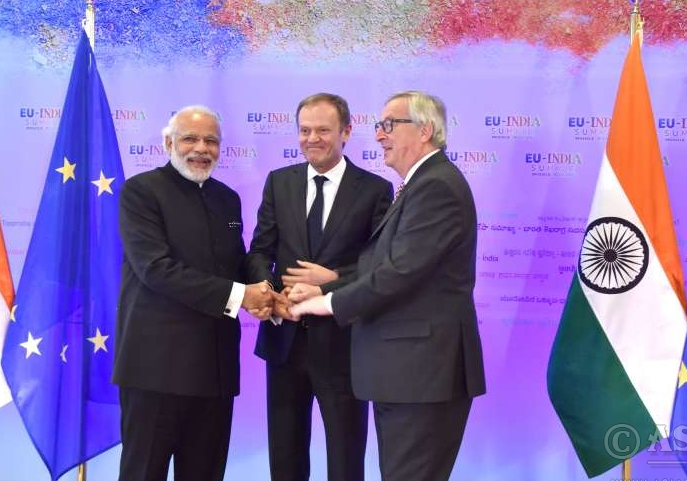 India's decision not to renew an investment treaty with the Netherlands has sounded warning bells to the European Union that this will be the start of a process of India allowing many bilateral Investment protection deals with other European countries to expire.
India has indicated that it will look to cancel 57 bilateral treaties including with 23 countries of the EU. Many of these EU countries treaties are due to end in the spring of 2017.
This stance suggests that the Indian government feels that it can get better terms from the European Union or does it?
There are three main issues which may be influencing India's current stance with the European Union:
1.India's Prime Minister Narendra Modi who won the 2014 general election has shown a protectionist sentiment and indicated little enthusiasm for trade deals.
2.India sees the EU as a "complicated trading partner" and it has indicated that it would prefers in having bilateral deals with the United States, Japan & Russia rather than doing a deal with the European Union.
3.India is looking to change the rules as to when foreign investors can seek dispute resolution through international arbitration processes.
Indeed it is the last point of India seeking to keep legal disputes within India which has caused massive alarm to the Europeans. The Indian government's new position is that a foreign firm should first exhaust all legal options available for resolving disputes in India prior to seeking international arbitration.
The Europeans see the Indian legal process as very lengthy and they also question the ability to get a fair and equitable resolution to a dispute through an Indian process. Jyrki Katainen who is the vice-president of the European Commission said that "European businesses have said they are extremely worried about the potential legal gap and it is a huge risk"
Some also say that the fact the India has lost quite a few cases which went to international arbitration is another key reason for it wanting to narrow the ability of foreign firms to seek dispute resolutions though international arbitration.
So what happens next?
When these trade deals are not extended or renegotiated then "sunset clauses" will come into force. The sunset clauses mean that the terms of the old deals would remain in force for another 10 to 15 years.
These clauses would likely prevent talks commencing between India and the EU on any investment treaties.
In 2015 EU trade with India totalled €78 billion; however trade between these blocks has been steadily decreasing over the last five years. This shrinking trade volume is expected to continue.
The Indian government now sees the EU as a weaker party to any trading agreement and this will embolden it to seek much more favourable terms if and when any trade negations recommence.