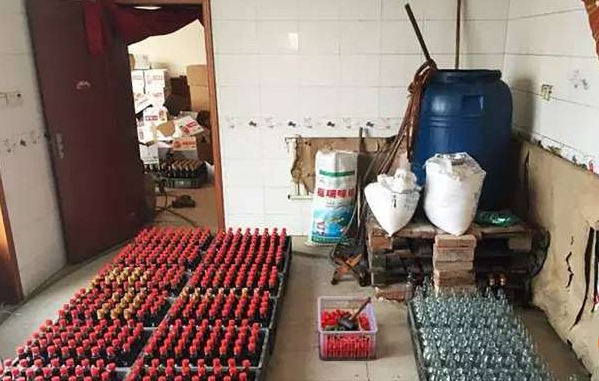 Protect Food Sold to China. China's Food imports are rising. So have you thought of the likelihood that the food products you sell in China could be tampered with or even copied? Food fraud is a very real threat in China.
China's food track record
Food scandals are commonplace in China.  It has an awful record regarding food security and tractability.
In January 2017, the China Food and Drug Administration (CFDA) commenced inquiries in Tianjin after they identified nearly 50 factories that were discovered to be manufacturing fake versions of well-known and widely used food seasonings and sauces.
Factories were found to be making fake products. It was estimated to be worth up to 100m yuan ($14.5m) per year. They were using cheap industrial ingredients and recycled food ingredients which were unsafe and unsuitable for human consumption.
The brands affected included Knorr Nestle and Maggi, whose seasonings, which include spices and chicken stock, are commonly used in Chinese cooking and can be widely found across Asia.
In 2016, Chinese media reported that mushrooms were being treated, by food suppliers in Shanxi, with hazardous chemicals so as to make them look whiter and fresher.
In 2015, authorities seized 100,000 tonnes of smuggled meat; some were more than 40 years old!
In 2014, a meat supplier to fast-food chains McDonald's and KFC in China was found to be repackaging old meat and selling it as new.
And don't forget what happened in 2008 with the tainted milk powder scandal, which killed six babies and made more than 300,000 children ill.
So are you really confident that the food which you export to China is not tampered with or even replaced with faked products when it is in China?
The real fact of the matter is that it is your company's responsibility to put in place a food security process to prevent your food products and company brand from becoming the subject of the next Chinese food scandal.
5 Tips to Protect the Food Products you Sell in China.
The ultimate aim is to try and achieve total farm-to-fork traceability of your food products as it moves along the food supply chain within China. However, in the real world, this is not always fully achievable. So the best thing is to establish a visible preventative and cross-checking set of measures. It will reduce the likelihood of food tampering or copied food being sold within China.
Below are some tips your company could consider when implementing a China Food Security & Traceability process:
 1. Fully know you, the customer.
You should have them independently audited so as to assess that they are a suitable long-term customer who not only sees the profits through sales of your products but also understands the profits behind protecting your food brand.
 2. Create a bi-lingual Chinese sales contract
Between your company and the customer. This contract must be enforceable in the courts of China. So, the contract should include an agreement by the customer to allow regular visits by your appointed inspection representatives to inspect your products at their warehouse.
 3. Use an Independent Chinese import license intermediary
To clear your products through Chinese customs. This will give your company the ability to maintain control of the supply chain. And not be dependent on any Chinese customer to import products our your company's behalf into China.
 4. Have a Continuous Presence in China
So, use a Chinese telephone number and a China customer support call center.
Have your own inspection team on the ground in China.
Also, consider having your own independent warehousing facility.
 5. Have a Continuous and Auditable tracking system
So, maintain a product traceability system.
Therefore encourage Chinese customers and consumers to contact your China support center. To confirm the products they purchased are legitimate.
Have your company's Chinese contact details printed on every product label used in China.
Also, have an online Chinese product verification facility where customers and consumers can check that their products are legitimate.
So About the Author 
So, Aidan Conaty is the founder of TCI China and Goodada.com. Aidan has spent over 20 years assisting companies to trade internationally. He founded Goodada, which assists companies with international Quality Control Inspections.
Therefore, He can be contacted by email at aidan@goodada.com  or be contacted at:
(Europe/ Rest of the World) +353 1 885 3919;
(UK) +44.020.3287.2990
(North America) +1.518.290.6604