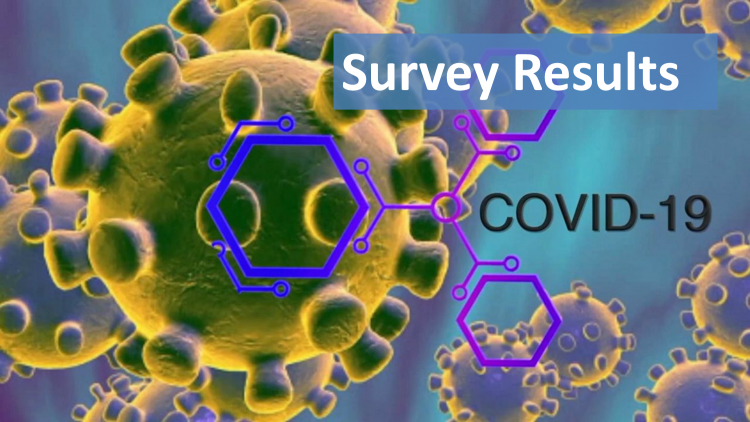 How Covid-19 is affecting global trade
How Covid-19 is affecting global trade -Goodada recently sent a  survey out to its registered users. This survey was used to asses the impact of the coronavirus on peoples businesses. At Goodada, we felt that the findings from this survey are vital and needed to be shared with companies so that everyone can understand and assess how Covid-19 is affect their business and global trade-in general
The survey results tell us that, at present, most businesses are starting to become very concerned about the effects of Covid-19 on their supply chain.
Q1 – Are you Concerned about the Potential impact of Covid-19 (Corona Virus) on your business?
This figure tells us that businesses are very apprehensive about the potential economic impact of Covid-19, with an overwhelming majority (90.4%) of respondents expressing some level of concern. 1 in 2 respondents said that they were "very concerned".
Q.2 Has Covid-19 affected your supplier's ability to supply you with your goods?
Most firms are worried that Covid-19 will affect their supplier's ability to supply them with products (71%).
Q.3 Do you expect Covid-19 to reduce your international purchases in 2020?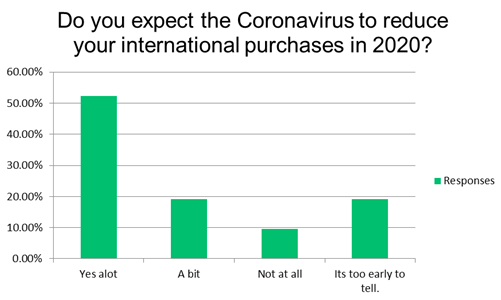 Seven out of 10 companies expect to reduce their international purchases in 2020, while two out of ten said that it was too early to tell.
Q.4 Because of Covid-19, how many days delay are you prepared to accept from your suppliers before you would cancel the order?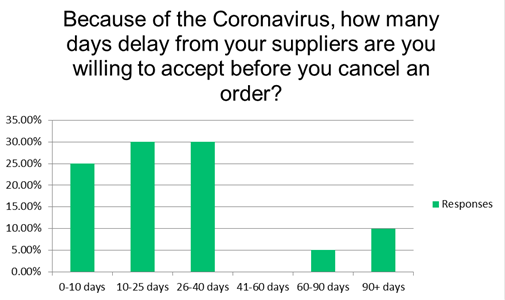 Interestingly only 15% of firms are willing to wait more than 40 days delay from their suppliers before they cancel their order. 55% of respondents said that they would cancel orders if delays were more significant than 25 days.
Q5. As a result of Covid-19, do you expect to change or bring in new suppliers of products?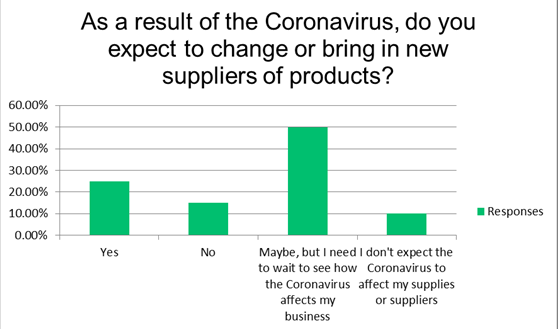 Concerning the feedback about changing suppliers, there are mixed signals from the survey. 50% of respondents are waiting to see how the virus will affect their business before deciding to switch suppliers, while 25% expect to need now to change their suppliers.
Finally, for some slightly positive news, over 60% of respondents source products from China. With China starting to reopen this means that these supply chains will be able to recommence. However, 35% of respondents also source products from European Suppliers and four out of ten source products from other Asian countries. These regions are forecasted to be soon badly hit by Covid-19.
About the Author
Aidan Conaty is the founder of Goodada & TCI China. Aidan is a qualified Management Accountant, was awarded a scholarship to study his MBA at Trinity College Dublin. He has a consultancy background in Management, International Business and Supply Chain.
Aidan can be contacted email at aidan@goodada.com or at:
(Europe/ Rest of the World) +353 1 885 3919
(UK) +44.020.3287.2990
(North America) +1.518.290.6604