Face masks- Today there are so many types of facemasks being talked about, I felt that there is a need to explain the basic types of facemasks available and also help you to understand a good quality facemask from a poor quality facemask.
Facemasks Type 1 – Disposable Masks
**USER TIP** In general, the coloured side/the side with folds facing downwards of the disposable mask should face outwards with the metallic strip uppermost.**
There are two main types of disposable facemasks
 1. Disposable Medical grade Facemasks (EN14683)
– These types of masks are recommended by the WHO (World Health Organisation) for Covid-19 – https://www.who.int/publications-detail/advice-on-the-use-of-masks-in-the-community-during-home-care-and-in-healthcare-settings-in-the-context-of-the-novel-coronavirus-(2019-ncov)-outbreak
– The face masks need to have EN 14683 certification to be deemed Medical grade.
– Most disposable medical masks adopt a three-layer design which includes an outer fluid-repelling layer; a middle layer serves as a barrier to germs and an inner moisture-absorbing layer.
 

2. Disposable Civilian grade Facemask (EN 149:2001+A1:2009)
– These masks are for civilian use and protect against dust, solids, water-based aerosols and oil-based aerosols
– They are not suitable for Covid-19 prevention or medical use.
– They are cheaper when compared to disposable medical masks.
 

3. Disposable Civilian Facemask (no certification)
– Cheapest type of mask
– No standards applied and unverified materials are used
– Maybe less than three layers used.
– Not suitable for Covid-19 use or dust control.
Facemasks Type 2 – Particulate Respirator Masks
 1. KN95, N95 or FFP2 Mask – which should I use?
– Essentially they are all serving the same function.
– KN95 is to Chinese Standard, N95 is to USA standard, and FFP2 is to European Standard.
2. Are there different grades of these masks?
Yes, there are two main grades for each of these products.
 – Medical Grade Minimum "N95" respirator according to FDA Class II, under 21 CFR 878.4040, and CDC NIOSH, or Minimum "FFP2" according to EN 149, EU PPE Regulation 2016/425 Category III, or equivalent.
 – Civilian Grade masks. Civilian grade masks are suitable for the prevention of dust and are to EN149:2001.
3. For KN95 Civilian Masks, why are there some many different prices from sellers in China?
There are three areas which will affect the cost of the mask:
i. The weight of the mask.
ii. The number of layers of the KN95 mask
iii. The density of the melt-blown material used in the mask.
KN95 masks with higher prices will tend to be 6g weight with 5/6 layers and have 25g per square meter density of melt-blown material.  Lower priced KN95 mask may have a  less melt-blown material density, have a lighter weight or have fewer layers.
The finish of the higher-priced masks tends to be a lot better when compared to the cheaper priced masks.
[caption id="attachment_1221" align="aligncenter" width="640"]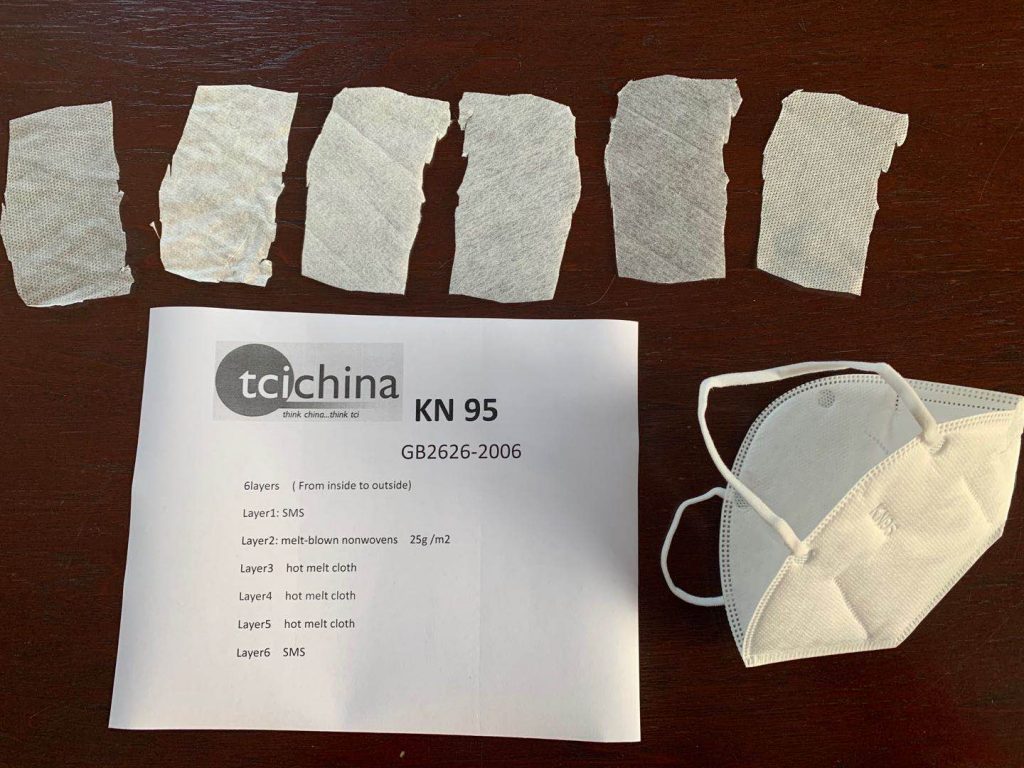 Good quality KN95 Facemasks have 6 layers and are 6g in weight[/caption]
4. The KN95 masks are GB2626 certified, and I can get a low price. Is this ok?
A GB2626 certificate is issued by a laboratory which tested a face mask. The certificate is based on the results of the tested face mask. It does not mean that the products which you are buying continue to be manufactured to this standard.
I have been made aware that some questionable sellers are getting a golden sample tested and certified and are selling inferior products to international customers using this certification. I always advise buyers to use a trusted purchasing partner in China. It is also advisable to have purchase contracts in place.
Conclusion about Facemasks
There are many other types of masks, reusable, filter etc but I have focused on the main types of masks which people are seeing on a daily basis.
If you have any questions or comments, please do not hesitate to contact me on.
Facemasks – About the Author
Aidan Conaty is the founder of Goodada & TCI China. Aidan is a qualified Management Accountant, was awarded a scholarship to study his MBA at Trinity College Dublin. He has a consultancy background in Management, International Business and Supply Chain.
Aidan can be contacted email at aidan@goodada.com or at:
(Europe/ Rest of the World) +353 1 885 3919
(UK) +44.020.3287.2990
(North America) +1.518.290.6604
or WhatsApp (Mobile only)