Promoting Your Products Internationally
We can help promote your products into new international Markets
Talk to us today!
Making International Payments?
Goodadas International Payments Service will Save you Money.
Find Out More!
卖家使用Goodada网站说明
Downloadable Instruction manual available here Seller Guide
Seller User Manual
卖家使用Goodada网站说明
Section 1: Seller Registers on Goodada.
Section 2: Seller logs onto Goodada website.
Section 3: How to use Seller Control Panel on Goodada.
Section 4: How to Add/ Edit/ Delete products on Goodada.
Section 5: How to Edit your Company Profile on Goodada.
Section 6: How to Edit the Sales Contact Information on Goodada.
Before You Start 开始前
Information required For Seller Registration.
注册开始前,卖家需要准备的相关信息
Image of the Company Logo

公司徽标图像图片

Images of exterior of Company

公司外观图像图片

Image of Sales Person

销售人员形象的照片
i. All Registration Pages MUST be completed before products can be added.
i. 所有注册页须填写完备后才能添加产品
ii. Seller must complete page 1 in order to be registered on Goodada.
ii. 卖家须完成第一页, 才能在Goodada注册
iii. Seller can sign into Goodada to complete registration pages 2, 3, 4.
iii. 卖家登陆Goodada后来完成第2,3,4页
Section 1: Seller Registers on Goodada 第一部分:卖家在Goodada 注册
Seller visits Goodada website. www.goodada.com 卖家浏览 Goodada 网站 www.goodada.com

Seller clicks on the "Register Now" icon in the top right of the Goodada Page

卖家在 Goodada 页面右上点击 "Register Now"
Seller completes – "Create a Seller Account Form" (25% of registration)

卖家完成-"Create a Seller Account Form"(建立卖家账号, 占注册完成的25%)
Note that this page must be completed for Goodada to create your account

注意该页必须完成才能创立自己的账号

This section is for the contact person whom Goodada will be able to contact.

该部分是用于在Goodada 上的联系人信息

The details in this section are for Goodada's records only.

该部分中的细节仅用于Goodada的录入信息

The information section is will NOT BE DISPLAYED to the public. 该信息部分不会展示给公众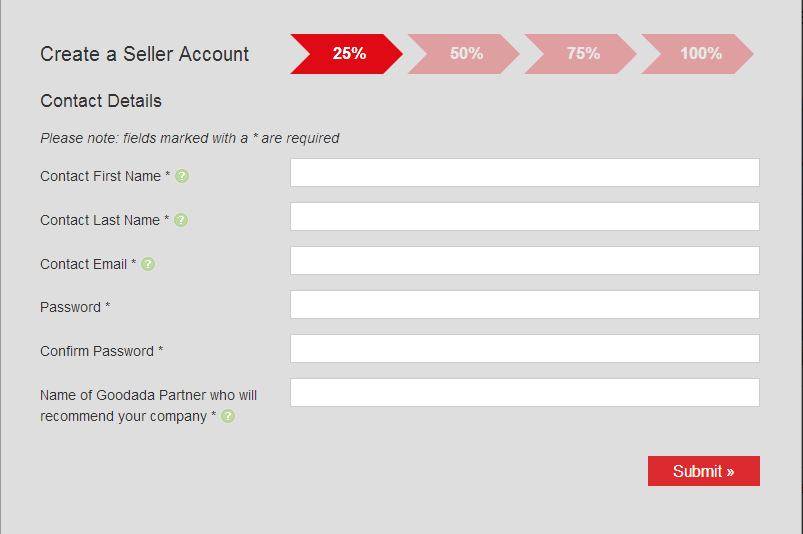 Complete Seller Company Information (50%)

完成卖家公司信息(50%)
All information must be in English

所有信息须用英文完成

This information will be displayed to the Public

该信息将被展示给公众

All Pages must be completed before Products can be put onto Goodada.

所有页面须完成,才能登录产品 Goodada
Complete Company Background information (75%)

完成公司背景信息(75%)
All information must be English

所有信息都是英文的

You must put in mandatory information such as: Year Formed, Company Logo, Exterior Photos of Buildings

须填入合法的信息: 成立的年份, 公司徽标, 公司大楼外貌

Include some background information on your company. Note it will increase your ability to get more sales by almost 30%

加入公司的背景信息。这样会增加30%的销售额

If you have a company video please add it. This will make your company more attractive to new customers by almost 20%

若有公司录像, 请添加。这会提高公司被新客户认知度约 20%

Include some photos of your Factory. This will make it easier for new customers to choose you.

加入工厂的一些照片, 这会使新客户更容易的选择您
Complete Information on Sales contact for Visitors to Goodada

完成销售联络信息,以便买家联系
All information must be in English

所有资料须是英文

This is the information of the Sales Person that the customer will communicate with.

客户会根据这些信息来联系销售人员的

A clear photo of the Sales person is required.

须加入一张清晰的销售人员的照片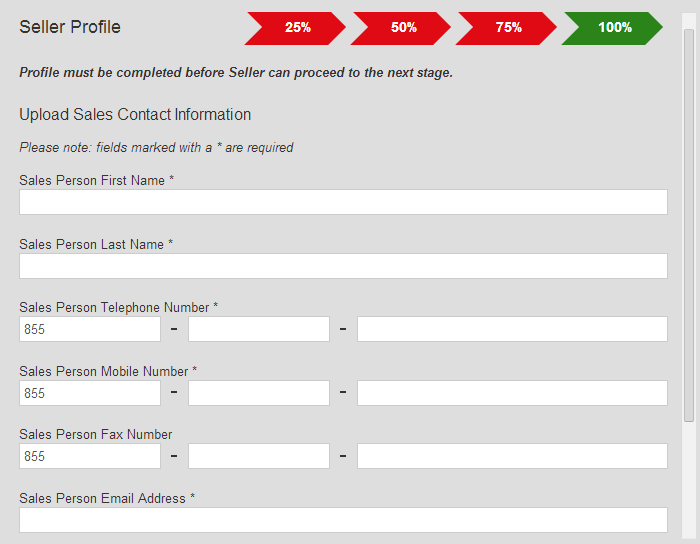 Section 2: Seller logs onto Goodada website
第二部分: 卖家登录 Goodada网站
Seller clicks Sign icon

卖家点击 Seller Sign In 图标
Seller enters in their email address and password 卖家输入自己的邮箱 和密码

Section 3: How to use Seller Control Panel on Goodada
第三部分:卖家在 Gooddada 网站上如何使用控制面板
Seller can confirm their Account Status on Goodada

卖家在 Goodada 上可以确认他们的账号状态
There are 3 Seller Account Status 共有三种账号状态
i.Verified 已核实的
ii. Awaiting Verification 等待核实
iii. Suspended 待定的
There seller has 5 Action icons located on the top right of the Control Panel 在控制面板右上有 5 个功能图标
Products – This allows the Seller to Add/ Delete/ Amend their Products on Goodada

Products(产品)---允许卖家在Goodada上增加/删除/更改他们的产品

Profile – This allows the Seller to update the information about their Company on Goodada

Profile(简介)---允许卖家在Goodada上更新他们的公司介绍

Contact – This allows the Seller to amend the Contact Details for their company

Contact(联络)--允许卖家更改他们公司的联络信息

Logout – This allows the Seller to exit their control Panel

Logout (退出)---允许卖家退出他们的控制面板

Contact Goodada – If the Seller requires any information they can ask Goodada.

Contact Goodada (联系Goodada)—卖家若需任何信息可询问Goodada

Section 4: How to Add/ Edit/ Delete products on Goodada
第四部分:如何在Goodada上添加/编辑/删除产品
1. How to Add a new Product onto Goodada 如何在 Goodada 上添加新的产品
**Note** You must have an image of the Product available **Note** **注意**须有可使用的产品图片
Click on the Blue Button titled "Products" on the top right hand corner of the screen 点击屏幕右上角蓝色键"Products"

Click on the "Add New Product" Button 点击"Add New Product"(添加新产品)键

Fill out the information required – IN ENGLISH 填入所需英文信息
Suggest some Keywords – This will assist the user in searching for your product. 建议使用一些关键词----这有助于买家搜寻到你的产品

Assign the Product to the correct classification on Goodada Database 在 Goodada 资料库内把产品正确分类

Press the Save Button 点击"Save" 保存键
2. How to Edit a Product 怎样编辑产品
Click on the Blue Button titled "Products" on the top right hand corner of the screen 点击位于屏幕右上角的蓝键 "Products"

Select the Product line that you wish to edit 选择要编辑的系列产品

Click on the brown "Edit" Box on the Product Line 点击系列产品上的棕色 "Edit"

Make the changes in any of the sections that you require 在你认为需要的地方作更改

Press the Save button at the bottom to save the changes 点击底部的保存健来保存已作的更改
3. How to Delete a Product
Click on the Blue Button titled "Products" on the top right hand corner of the screen 点击屏幕右上角的蓝键"Products"

Select the product line that you wish to Delete 选择要删除的产品

Click on the Red " Delete" Box 点击红色"Delete"

A Warning message will appear asking you if you want to confirm deletion. Please "Yes" if you wish to confirm the deletion 提醒信息会询问是否确认删除。 若确认删除,请确认"Yes"
Section 5: How to Edit your Company Profile on Goodada
第5部分: 如何在 Goodada 上编辑公司资料
Click on the Yellow Button titled "Profile" on the top right hand corner of the screen.

点击位于屏幕右上角的黄色键 "Profile"

You can only edit your "Company Profile" and "Background Information" in this section.

在该部分, 只能编辑"Company Profile" (公司资料)和 "Background Information"(背景资料)

Press the "Save" button to save the changes to the company Profile.

点击"Save" 键来保存更改的公司简介
Section 6: How to Edit the Sales Contact Information on Goodada
第6部分:如何在 Goodada 上编辑销售联系信息
Click on the Green Button titled "Contact" on the top right hand corner of the screen. 点击位于屏幕右上角的绿色键 "Contact"

You can edit the contact details of the Sales.

编辑销售联系信息

Press the "Save" button to save the changes to the Sales contact information. 点击 "Save" 键来保存更改的销售联系信息