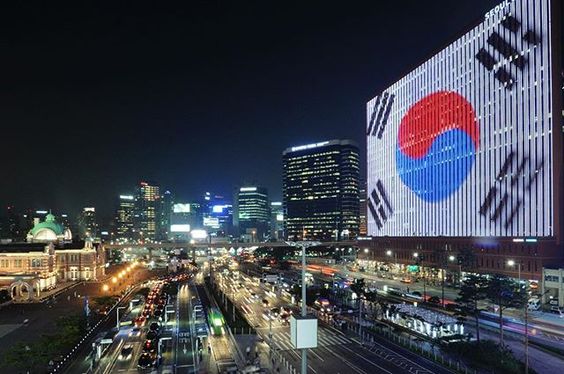 South Korea (Republic of Korea) – Overview
South Korea is celebrated for the fact that in just one generation it rose from one of the poorest countries in the world to one of the most advanced high-income countries in the world.
Presently South Korea is ranked as the 11th largest economy in the world (source Knoema.com  & the World Bank).
With a stable government, strong rule of law and in addition a effective regulatory system, South Korea is ranked 4th by the World Bank in the ease of doing business rankings.
South Korea has a population of 51.2 million people. In addition 25.8% of the population is under 25 years of age (source cia.gov).
Strengths of the South Korean Economy include:
It has 15 Free Trade Agreements (FTA).
It is a world leader in electronics, shipbuilding, steel and automotive.
74% of South Koreans undertake postgraduate-level education, with 7% of Gross Domestic Product (GDP) spent on education.
In addition South Korea has the highest level of broadband penetration in the world, with speeds of 100 megabytes.
South Korea's Business culture
With a modernized and business friendly environment, South Korea still has some cultural differences to be aware of:
South Korea has a respect for hierarchy.
A slight bow, followed by a handshake, is the preferred way of greeting.
Most South Korean business people are not comfortable until your position and company name is known. Business cards should be left on the table in front of you for easy reference. When translating your card into Korean it is only necessary to translate your name and title.
Companies in South Korea prefer to do business with people they have a personal connection with. It can help if you are introduced to a prospective business associate through an intermediary. The higher the social standing of the intermediary, the more successful you are likely to be at making contact with the right people.
Cold calling on businesses will most likely have limited success.
Be prepared for expectations of fast delivery and occasional last minute alterations.
South Korean business people are famously good negotiators. Be patient, be gentle, but be firm. Be prepared for a 'price negotiation war', however don't give in easily as Koreans are persistent and admire this quality in others.
Korea's numerical system counts differently from other countries so make sure all numbers are written down and fully understood in negotiations.
Setting up in South Korea
The most popular way to develop business in South Korea is by distribution through a local agent. Entering a market by working with an agent or distributor can have several advantages including:
Accessing the networks of the agent or distributor.
Availing of local knowledge.
Saving on time and costs.
However, there are also some disadvantages when engaging a third party including:
Additional cost to your products.
Losing control and visibility over sales and marketing of your products.
There are other alternative options of setting up in South Korea you can establish a representative office, a branch office, a joint venture, Foreign invested enterprises (FIEs) or a wholly foreign owned enterprise.
Banking and Finance
The South Korean Won (KRW) is the currency of South Korea.
The Financial Services Commission (FSC) and the Financial Supervisory Service (FSS) , its regulatory arm, are responsible for supervising and examining all banks, including specialized and government-owned banks, as well as securities and insurance companies
South Korea – Tariffs and Non-Tariff Barriers
Tariff
South Korea has trade agreements with many countries; this may mean that tariffs may be eliminated on a number of goods and services, with additional tariff reductions on other goods and services. You should research this through your local government trade support office.
It is worth visiting the Korean Customs Service to determine any customs or import taxes in South Korea for your goods or service.
South Korea has a basic Value Added Tax (VAT) rate of 10%.
Non-tariff barriers
Most commodities, except rice, can be freely imported into South Korea. However some commodities may be subject to special registrations and import approvals.
Certificates of authority to manufacture, issued by the appropriate authority in the exporting country, are required for shipments of pharmaceuticals, medical instruments, sanitary materials and cosmetics.
Only licensed pharmaceutical companies may import pharmaceutical products, subject to the approval of the Korean Ministry of Food and Drug Safety.
The South Korean Ministry of Food and Drug Safety require the submission of 'Technical Documents' for the certification and approval of medical devices.
Product labelling, certification and packaging
Country of origin labelling is needed for commercial shipments entering South Korea. Korean language labels must be shown at the time of customs clearance. They can be attached locally on products in the bonded area, either before or after clearance.
South Korea has specific labelling and marking requirements for certain products, such as pharmaceuticals, organic foods, functional foods and food produced through biotechnology.
Labels on most foods must show:
Dates of manufacture.
Expiry dates.
Ingredients in descending order of composition.
Importer's name, address and phone number.
The return address where the product can be returned or exchanged.
Manufacturer's name.
Methods of preservation.
Product name (generic and trade).
Type of product.
Weights or quantities
(South Korea uses the metric system)
More information on South Korea's food labelling regulation can be found on the Ministry of Food and Drug Safety (in English).
Health Foods
Health food packaging requires labelling in Korean. An original copy of test reports or test certificates should also be provided.
Furthermore South Korean authorities may require the manufacturer to provide following documents:
Ingredient specifications.
Details of the manufacturing procedures.
A Certificate of analysis.
Pharmaceutical products
According to the Korea Pharmaceutical Traders Association, Certificates of manufacture and free sales are required for registration of pharmaceutical products. In addition a safety and efficacy test report is required for registration of pharmaceutical products. Furthermore a test standards and methodology report is also required for registration of pharmaceutical products.
Exceptions include non-biological products that are:
Included in the South Korean pharmacopoeia and national formulary authorised by Minister of MFDS.
Listed in the South Korean herbal medicine codex.
Relevant to the MFDS manufacture standards.
Applicable to the test standards and methodology separately notified by the Minister of MFDS.
Manufactured by the same manufacturers as previously registered products.
Organic Food
All imported food labelled as organic must be accompanied by a organic certificate.
BSE Free Certification
South Korean authorities may require a Certificate of Bovine Free Declaration (BSE Free) for foods and food additives containing ruminants and by-products of ruminants (except for milk and dairy products and collagen casing).
Methods of quoting and payment
By and large most quotes are usually provided in US$. Payment is usually by letter of credit, document against payment (D/P), document against acceptance (D/A) or telegraphic transfer (T/T).
Payment terms should be written down and signed off by all parties.
Best practice for sellers dealing with new customers is to use secured payment terms such as 100% payment prior to shipping, letters of credit, sight drafts or bills of exchange.
Documentary & Clearance Requirements
Documentation required
South Korean Customs require the following documents from companies exporting to South Korea:
Commercial Invoice.
Certification or Origin.
Waiver of Certification of Origin (If applicable).
Pro-forma Invoice.
Bill of Lading/ Airway Bill.
Packing List.
Insurance Certification (If applicable).
Additional documents maybe required for:

Agricultural Products
Health Foods
Medical Devices
Organic Foods
Pharmaceutical Products
Customs process
Presently Exporters can file an export notice to Korean Customs using computer based shipping documents at the time of export clearance.
According to the Korean Customs Service's (KCS), Importers can make an import declaration online using their Electronic Data Interchange (EDI) system for paperless import clearance.
Business Risks
Companies wishing to operate in South Korea should commit to the highest level of corporate behaviour and familiarise themselves with the laws of their country and the penalties pertaining to bribery of foreign officials.
Intellectual Property Protection
You should register your patents and trademarks with the Korean Intellectual Property Office (KIPO) before you commit to any important deals with South Korean companies.
Ultimately the Republic of Korea Intellectual Property Office (KIPO) is the government body responsible for the registration of trade marks, patents and designs.
The KIPO website provides a searchable patent database along with online intellectual property application facilities.
Consequently the patent and trademark registration system in South Korea favours the first company to register successfully with KIPO.
Dispute resolution
South Korea has an established legal system. Therefore hiring a local legal representative is common practice.
South Korea Web Resources
Invest Korea
Korea Importers Association (KOIMA)
Korea Trade-Investment Promotion Agency (KOTRA)
Korea.net
Korean Institute for International Economic Policy (KIEP)
Seoul Global Centre for foreigners
Korean Agency for Technology and Standards (KATS)
Korea Customs Service (KCS)
Korean Laboratory Accreditation Scheme (KOLAS)
Korean Ministry of Food & Drug Safety
About the Author
Aidan Conaty is the founder of Goodada & TCI China. Aidan is a qualified Management Accountant and has a background is in Supply Chain Consultancy.