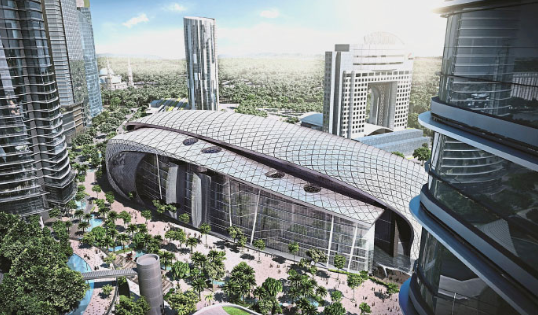 Malaysia – Overview
Since gaining independence in 1957, Malaysia has successfully diversified its economy from one that was initially agriculture and commodity-based, to one that now plays host to robust manufacturing and services sectors which have led it to becoming a leading exporter of electrical appliances, electronic parts and components.
Malaysia is a stable economy in Asia and is constantly ranked as a top 40 GDP economy (source Knoema.com).
It is ranked 24th by the World Bank in the ease of doing business rankings.Malaysia has a stable government, strong rule of law and effective regulatory system.
The population of Malaysia is 31.4 million with a whopping 43% of the population under 25 years of age (source cia.gov).
Malaysia aims is to position itself as a leading pro-business economy in South East Asia. It is seeking to attract international players into the country to set up their regional operational headquarters, distribution centres and international procurement centres.
To facilitate this pro-business agenda, the government of Malaysia has invested heavily in infrastructure, liberalized its financial services sector, and relaxed foreign ownership laws in the manufacturing sector.
Malaysia's Business culture
Doing business in Malaysia requires patience, politeness and time.
Business negotiations with Malaysian counterparts are often a long a detailed process so patience is required.
Good etiquette and politeness is expected at all times. For example when attending a meeting pay your respect to elder business people of the organisation prior to the younger members of the organisation.
Malaysians like to spend time developing relationships prior to doing business, this time must be factored into any negotiations.
Setting up in Malaysia
Routes into the Malaysian market include:
Local agent or distributors.
Setting up a company.
All foreign companies must either register in Malaysia or incorporate a local company in order to trade within the country. This process must be done through the Companies Commission of Malaysia (SSM).
Options for business formation include:
Sole proprietorship or partnership.
Private limited company or unlimited company ('Sendirian Berhad' and 'Sdn. Bhd.')
Depending on the industry, a local partner may be necessary to facilitate doing business in Malaysia. For example, many government procurement projects require a certified 'umiputra' status company with prior approval from the Ministry of Finance before a business can be considered for a project.
Banking and Finance
The unit of legal tender in Malaysia is the Ringgit.
There are eight local banks in the country. The country's central bank, Bank Negara Malaysia (BNM) licenses and regulates businesses such as commercial banking, investment banking, Islamic banking and money brokering.
Exports to Malaysia may be financed through cash in advance, open account, or letters of credit issued to importers by banks in Malaysia. Financing is readily available in the domestic market to Malaysian importers. Exporters requiring credit ratings can obtain them from two domestic credit rating institutions, the Rating Agency Malaysia Berhad  and the Malaysian Rating Corp. Berhad .
Malaysia – Tariffs and Non-Tariff Barriers
Tariff
The Royal Customs and Excise Department has responsibility for customs and tax in Malaysia.
Tariff duties range from 2% to 60%. The highest duties are imposed on 'luxury' items and items deemed to be in direct competition with locally produced goods.
For certain goods, such as alcohol, wine, poultry, and pork, Malaysia charges specific duties that represent extremely high effective tariff rates.  Duties for tariff lines where there is significant local production are often higher.
Imports are also subject to Malaysia's Goods and Services Tax (GST), which is applied at a standard rate of 6 percent.
Non-tariff barriers
Import licences are required for certain controlled items.
A restrictive import licensing regime is also charged on heavy construction equipment, electrical household appliances, and iron and steel products.
Please see the Royal Malaysian Customs Department's website for a list of prohibited and restricted items.
Prior permits from the Malaysian Department of Agriculture are required for a range of items:
Plants and parts for propagation, including seeds.
Soil for research purposes and growing media.
Special requirements govern the importation of drugs, pharmaceuticals and chemical additives used in food.
All imported foodstuffs and drugs are subject to inspection.
Machinery must meet with safety requirements and be approved by the Chief Inspector of Machinery. Electric motors must be approved by the Chief Electrical Inspector.
Product certification, labelling and packaging
Labelling regulations can be found in the Labelling and Food Declaration Guide issued by the Ministry of Health.
Methods of quoting and payment
Quotes preferably in Ringgit Malaysia (RM), CIF (cost, insurance and freight). Payment is usually by letter of credit.
It is best practice for sellers dealing with new customers to use secured payment terms such as 100% payment prior to shipping, letters of credit or sight drafts (or bills of exchange).
Documentary & Clearance Requirements for Malaysia
Documentation required:
A declaration form (Customs Form No. 1) that indicates the number, description of packages/ crates, value, weight, quantity and type of goods and country of origin.
All duties/ custom taxes imposed on imported goods will need to be paid in advance before the goods can be released. Taxes to be paid include import tax and sales tax.
Bill of lading or Airway Bill.
Commercial invoice.
Delivery letter.
Insurance certificate, if insured.
Leaflet, catalogue or other related documents.
Letter of credit (if used).
Packing list.
Permits, licenses/ certificates.
Proof of fare payment.
Customs process:
Completed Custom forms should be submitted to Customs offices at the place where the goods are imported or exported.
Business Risks
Companies wishing to operate in Malaysia should commit to the highest level of corporate behaviour and familiarise themselves with the laws of their country and the penalties pertaining to bribery of foreign officials.
Intellectual Property Protection
The 2017 Malaysia ranked 33 out 130 in the world in terms of Intellectual Property Rights (IPR) by the International Property Rights Index Report .
The Intellectual Property Corporation of Malaysia (MyIPO) has responsibility for IP in Malaysia.
Dispute resolution
Malaysia's legal system is based on the English legal system.
Hiring a legal representative is common practice.
Malaysia Web Resources
Kuala Lumpur Regional Centre for Arbitration
Malaysian External Trade Development Corporation
Malaysian Franchise Association
Malaysian Industrial Development Authority
Ministry of International Trade and Industry
Multimedia Super Corridor Malaysia
Royal Customs and Excise Dept of Malaysia
Securities Commission of Malaysia
 
About the Author
Aidan Conaty is the founder of Goodada & TCI China. Aidan's background is in Supply Chain Consultancy and he is a qualified accountant.